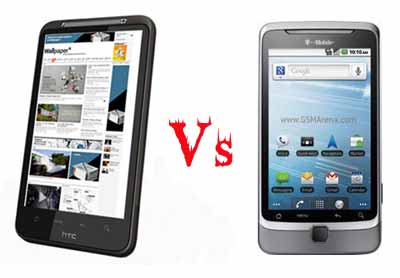 So far, this has been the year of Smartphones in the consumer electronics market. We have seen the likes of Apple and Google introducing their variants of Smartphones. Google's Android Powered phones have also flooded the market having high-end and high price tag phones and also the low budget phones offering multitude of features. The cellphone manufacturers like Samsung, LG, Motorola, and HTC all have something new to offer to consumers.
So if you are searching for Smartphones that are not heavy on pocket and offer amazing features then you should truly go for HTCs Desire HD and T-Mobile G2. If you really want to opt one, you should read reviews of both these devices. HTC Desire HD review comprehensively describes the handset features. T-Mobile G2 review would give you deep insight into the software and hardware features of the phone. For your convenience, I am going to give a brief comparison of both these Smartphones, so that you can decide which one suits to your requirements.
HTC Desire HD
At first glance, HTC Desire gives a huge look and it clearly follows and seeks to improve its predecessor reputation with a whole new aluminum body, an 800×480 WVGA display, a staggering 8MP camera and a fast running 1GHz CPU. The hardware is zipped in by the latest Android 2.2 commonly known as Froyo on the software front. It is equipped with HTC Sense interface that also includes a whole new web interface for remotely locating your phone even.
With its unibody construction, the device overall gives a firm and tough look, or more appropriately said HTC Desire HD looks like a unified and solid chunk of technology. Desire HD offers great ergonomics both in the pocket and in the hand.
The internals of the phone are also quite good; it is powered with a 1GHz QSD8255 processor chip powering all the handset add-ons. The handset comes supported with 768MB RAM that is quite brilliant. On the battery side, the handset is not so good because a fully juiced battery will eventually run out after a whole day of operations.
The handset is powered by Google's finest mobile OS that has been released until now, with the functionalities like Wi-Fi hotspot and the option of USB tethering, the phone is surely a power house on the software end.
On the whole, there are only few small factors that can be counted as drawbacks of this set including poor battery life, but the features that this set brings to the table make it a winner for me on the budget side.
T-Mobile G2
For T-Mobile it has been a long road to this G2 version; first Google's Android made its entrance into the marker via G1 but then after that Droid family came into action and we saw handsets like Samsung Galaxy S, HTC Droid and Google's Nexus One powered by Android. After a long time, T-Mobile G2 hit the market and overall it's a decent looking handset with multitude of features being offered.
On the hardware side, G2 is a tough looking piece; it's not that rugged but surely it means business. It is a bit thick, almost 0.58 inches thick at the most heavy side and you surely cannot tag it light weight. It has a capacitive screen and a Blackberry like trackpad, the solid feel buttons are typical like on any Android handset. At back, it houses a camera of 5MP and also has a LED Flash. It isn't merely a touch screen device instead it has a Full QWERTY keyboard that slides out.
On the software front, it is powered by Froyo having non-widget stock version. There are various applications T-Mobile has pre-loaded into the handset that users might not want to have like Latitude, Shopper, Tracks, Sky Map and there is no way of deleting them easily. On the whole, T-Mobile G2 can be tagged as not an awesome Android Phone but a good phone that is packed with some good hardware.