In the high-end segment, renowned tech giant Acer has been offering an ecstatic range of machines with brilliant hardware and classy design language. Players like Lenovo, Dell and HP are also hitting the market with power-packed notebooks, but Acer's alluring combination of pricing and specs has been a major highlight for power-users. Recently, the renowned notebook manufacturer added a new member to its enormous Aspire family, Nitro VN7-571-74D1.
Featuring a nice set of specs, Aspire Nitro VN7-571-74D1 looks like one of the best mid-range Notebooks offering top-notch performance with sleek design. It's certainly a tough competitor for leading notebooks rolling just around $1000. But the thing is, does it really offers full value for money? With increasing players in the same category, Acer might just clinch the title with its Aspire Nitro. To know more, have a look on its detailed specs highlighted below!
Design
Just like other Acer Notebooks, the design language of Acer Aspire Nitro VN7-571-74D1 is also extremely sleek, compact and well crafted. It weighs just around 2.3Kgs, and is light enough to carry around from one place to another. The design and build of this machine serves well enough to create a perfect ecosystem for exploring true multimedia experience without any glitches or troubles.
Compared to other mid-range notebooks, Aspire Nitro V looks extremely beautiful and compact. It barely 22.8 mm thick, and looks like a perfect fit for always-on-the go people. Whether you're at home, at office, or on a vacation, the compact design and backlit keyboard packed with this machine will serve well enough to cater all your needs in one go!
Display
Along with design, the display equipped with Acer Nitro V is also an essential highlight. This Notebook sports a 15.6-inch full HD (1920 x 1080) Active Matrix Display with In-plane switching (IPS) technology. At full HD resolution, it features a whole new experience of movies and videos, and shows fine details with clear text. Colors burst out of the screen, contrasts are better, and viewing angles are absolutely perfect.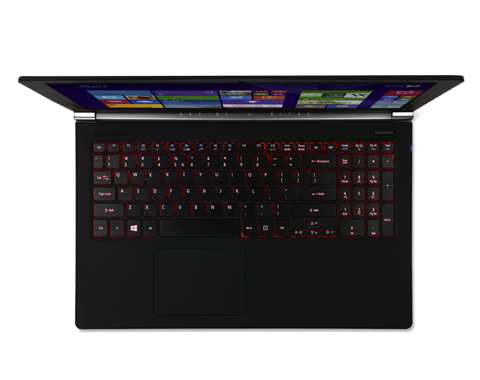 In fact, whether you're watching a movie in full HD or playing a high-end game, the visual experience on this machine will be simply terrific. Its anti-glare capabilities further reduce reflectivity, and add more comfort while viewing under broad daylight.
Hardware
Under the hood, Acer Nitro VN7-571-74D1 powers up by the latest Intel Core chipset. This Notebook has been powered by 5th Generation Intel® Core™ i7-5500U processor clocked at a frequency of 2.4GHz with turbo boost technology up to 3.0GHz. It serves better than other mid-range notebooks, and gives smooth and fast performance while handing multiple processes or demanding games. It's also equipped with 8GB DDR3 Dual Channel Memory and takes fast and glitch free performance to a whole new level. No matter which game or program you're running, the performance of this Notebook will stay right on the mark.
Software
On the software front, Acer Nitro V runs the latest edition of Windows, and offers upgradability to the next version making its way real soon. Built on 64-bit architecture, Windows 8.1 operating system works better than other operating systems, and features a whole new world of smart apps with new Start menu and improved Windows app store.
Storage
In terms of storage capabilities, Acer Nitro VN7-571-74D1 packs enough room for keeping audio, video, docs, and programs files. This machine comes with 2 Terabytes of HDD Type storage, and serves well enough to keep a massive selection of files. Whether you're a big music lover or core-gamer, the storage equipped with this machine will cater all your needs with complete perfection.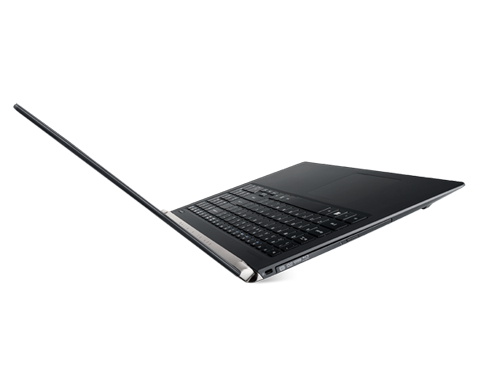 Graphic Performance
In terms of graphic performance, Acer Nitro V comes with Intel HD 5500 GPU, and delivers buttery smooth gaming and multimedia performance. It does not comes with a dedicated graphic card, but serves well enough to run standard games with minimal lags or glitches. Whether you're watching a full HD movie or playing medium level game, it will cater all your needs right from the word go!
Multimedia
To cater music and multimedia lovers, Acer Nitro VN7-571-74D1 comes with optimized Dolby enhancements, high definition audio solution, four built-in stereo speakers and built-in digital microphone. It offers immersive sound experience, and features with an improved HD Webcam for creating a perfect ecosystem for personal and professional video conferencing. Whether you're a business professional or college student, the impressive audio and video system packed with this machine will give best results every time.
Connectivity
On the connectivity front, Acer Aspire Nitro V packs standard support with a rich set of options like, Wi-Fi with MIMO technology, Bluetooth v4.0, HDMI, Ethernet LAN, USB 3.0 and USB 2.0. It also comes with 8X Super Multi Double-Layer DVD Drive and SD card reader, and offers instant access to CDs/DVDs and SD cards.
Battery
In terms of power efficiency, Aspire Nitro V holds sufficient amount of charge with its long-lasting 3-cell Li-ion Battery of 4605 mAh. It offers more than 8 hours of backup, and serves well enough to cater standard requirements with full proficiency. Whether you're at home, at office, on the roads, the long-lasting battery packed with this machine will surely last throughout the entire day.
Price
Acer Aspire Nitro VN7-571-74D1 is currently rolling at a decent price tag of $949.99 in the global market. It's not yet available in the Indian market, but is expected to launch real soon anywhere around 60k. Considering the specs packed with this machine, this price is really good for core users shopping for a powerful machine with decent configuration.
Conclusion
Considering the entire package, Acer Aspire Nitro VN7-571-74D1 looks like a decent Notebook in the mid-range segment. The only thing it misses out is a dedicated graphics card, but apart from it, all elements packed with this machine are extremely good. With 8 gigs of RAM, latest processor and 2TB hard disk, it can certainly cater all your needs with complete perfection!