The budget smartphone market is growing at a crazy pace and with every passing day, we see even better devices entering the segment. The bar for value for money is being raised with every new player that enters this segment. After the domestic manufacturers had their share of fun in the budget segment, some strong players started to rise in this segment. Motorola revolutionized the budget smartphone market with devices like Moto G. other manufacturers also joined the game with Asus making its presence felt strongly, all thanks to the Zenfone 4 and Zenfone 5.
The Zenfone 4 gave strong competition to the Moto E by being everything the Moto E was and then having some of its own unique elements. This made the device quite popular among those looking for an android device on budget. Its elder sibling, the Zenfone 5 also got quite a lot of attention and served as a nice alternative to Moto G. now we have seen manufacturers introducing 4G in low cost devices. Xiaomi introduced the Redmi Note 4G and Micromax introduced the Yu Yureka. Both these devices come at a very low price tag and they might soon have a rival here from Asus, the Asus Pegasus X002.
Asus recently introduced the Pegasus X002 in the Chinese market and it is a budget 4G device. It runs on a 64 bit chipset and here they have gone for MediaTek instead of Intel. Rest of the device is very much like the Zenfone 5 and resembles it a lot. It has got an impressive pair of cameras and an equally impressive spec sheet for the price. We bring you a closer look at this new budget device by Asus.
Design
The new Asus Pegasus X002 has a design very much like we have seen on the past few Asus devices. Due to the dimensions, it looks more similar to the Asus Zenfone 5 than any other device. But there are differences if you look closely. The dimensions are slightly different from the Zenfone 5 and we appreciate the changes. The Zenfone 5 is way too tall for a 5 inch device which makes it a bit difficult to handle. If it was wider, it won't have been a major issue like the Note 3 is not hard to handle. They have addressed the issue a bit on the Pegasus. It is shorter than the Zenfone 5 by 2.2 mm and wider by 0.2 mm. While the numbers might not suggest the same, it will actually cause a difference in device handling.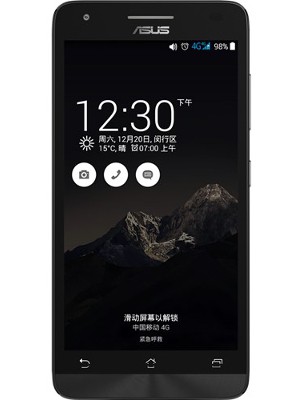 While the Zenfone 5 is a bit on the heavy side, it doesn't feel like heavy at all. The weight distribution is just perfect and that is why you don't feel the weight. The Pegasus has got similar weight distribution and weighs 5 Gms less. Apart from that, the layout is very much the same. There are capacitive keys just below the display and then a band below that. While on the Zenfone 5, the bezels were black, here they are of the body colour which makessignificant difference visibly.
Display
It gets the same display as the Zenfone 5 which is pretty good. The display is an IPS LCD panel that measures 5 inches. The resolution is 1280 x 720 pixels giving a pixel density of 294 ppi. The display is decent and replicates colours very well. The sunlight legibility is good and viewing angles are very wide. Thedisplay comes with gorilla glass 3 protection to keep it safe against scratches and indentations.
Hardware
For this new device, they have moved away from Intel and gone to Mediatek. It has got the Mediatek MT6732 chipset which is a 64 bit chipset. It has got eight cortex A53 cores that can do a maximum clock speed of 1.5 GHz. Along with that you get 2 GB of RAM. It comes with 16 GB of internal storage and supports external memory up to 32 GB. The Zenfone 5 can support up to 64 GB of storage but even 32 is plenty.
Apart from the connectivity option offered by the Zenfone 5, it also offers support for 4G networks. As we said already, we have recently seen many other budget devices offer 4G connectivity. The battery life was a major issue on the Zenfone 5 and that is why the Pegasus comes with a bigger 2500 mAh battery. This should translate into better battery life under heavy usage.
Software
The Pegasus runs android KitKat 4.4 with the Asus Zen UI on top of it. The interface looks nice and offers wide range of features and customisation options that you won't find on vanilla android. Most of the stock apps have been replaced with Asus's version of the corresponding apps. In most cases, these Asus versions are pretty good. While these are good, there are lot of apps you are not going to use and they are still going to eat up space in your launcher menu. Plus the icons for default apps have been modified to suit the overall interface. While we are not against that, it looks a bit awkward when a third party app has got a different style of icon.
Camera
The device has got an 8 megapixel primary camera which is pretty good. The camera software is also very impressive. It offers a wide range of options to alter the end result you get. There are different shooting modes that you can use to shoot pictures. Along with that there are the filters that you can put on the picture and you can see a preview in real-time. Like other device manufacturers, they are also trying to lure the fan of selfies by providing this device with a high resolution front camera. It has got a 5 megapixel front camera which is quite a lot for secondary camera. The Zenfone 5 comes with a 2 megapixel front camera. Both the cameras yield good results and the camera software is also very impressive.
Author: The author is an expert in mobile technology and loves to write about different handsets launched. He has listed the specifications Asus Pegasus X002 for the readers to make an informed buying decision.