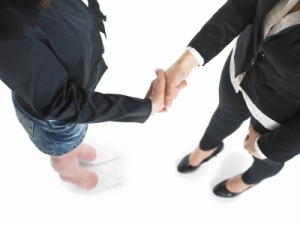 For the past decade, digital gurus have argued that print is dead or dying. Yet, millions of Americans are still picking up an array of printed items, from newspapers and magazines to brochures, business cards and flyers. And they're doing it on a daily basis. While an online marketing campaign should be a priority, a print component remains an essential tool in helping you reach your business objectives.
As any marketing expert will tell you, a comprehensive approach that includes multiple channels is the best method for promotional success. An online presence can be reinforced by printed materials, advertisements and logo placements.
The bottom line? You can't afford to neglect the opportunities afforded by print materials. A mix of digital marketing and print advertising can be a powerful combination.
Of course, business cards rank among the top printed items to add to your marketing collateral. As a business owner, chances are you'd never neglect having several on hand for networking. However, too many business owners neglect to create business cards that will make a lasting impression. Just because they are small, doesn't mean that they can pack a marketing wallop.
Business cards also are incredibly personal since they are typically hand delivered by you or another representative of your company. Ensure that your business cards represent your company properly. Cheap-looking cards or cards that do not represent the brand message can reflect poorly. Be sure to hire a professional printing service to print your business cards. It's just one more step in standing out among your competitors.
Even if you're not employed, personal business cards are also helpful for your personal brand. You can include a witty one-liner explaining what you do and what your interests are. Because recruiters carry it with them, you want it to be interesting enough that they'll hold onto it.
Print ads still have power, too. June 2013 study by Adobe Systems and Edelman Berland showed that 1/3 of consumers studied preferred print ads to those online. While that isn't a majority, it is a significant amount of business.
Another bonus for print advertising in publications is that other companies are relying more and more on digital advertising. This means that the competition on print stages is a lot less. It'll be much easier to gain your audience's attention. Print ads have also decreased in cost, so you may save some money, too.
A mix of digital marketing and print advertising (especially if it's personalized) can be a powerful combination. You can even use it to reach niche markets by advertising in magazines or other publications. Send out birthday postcards to your customers – with or without a discount coupon – to make them smile. They'll remember you the next time they need your products or service.
Large businesses are probably already doing a combination of print and digital. But print can be extremely effective for small businesses, too. Your customers might drive past your new store front or the restaurant you purchased and remodeled without a second glance, but they won't ignore an invitation to a grand opening in their mailbox.
Make sure your print-marketing looks just as polished your other advertisements. Plain or boring advertisements will get lost in all of the other pieces of mail or the other pages of the magazines your customer receives.
Print advertising and media is not dead. One-third of consumers still like to read physical magazines and that's a lot of business for your company. Make sure you're not overlooking those consumers. Business cards are also a great marketing tool. Make sure your employees have them and know how to use them. Most importantly, make sure your print marketing looks as professional as everything else your business does.