The following guide is dedicated to users of Windows 7 and contains some optimization tips for better functioning of the operating system. These tips will be useful for you especially if you are experiencing problems with the performance of your laptop or desktop PC running this operating system.
Set the boot order correctly

The first thing to recommend would be to set the boot order correctly. When loading the operating system, the computer loses quite a period of time when choosing the right device to boot from. Therefore, it is recommended to restart your computer and enter the BIOS menu. In here you will find an option called 'boot sequence'. Make sure the hard drive in which the operating system is installed is selected as the first option.
Discard the Aero theme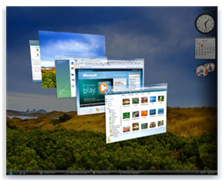 If you really want Windows to run as fast as possible you have to give up some elements that make it more attractive. A first recommendation would be to disable Windows Aero, which enables window color transparency, but compromises performance. A basic scheme, without transparency, will do the contrary.
Turn off services you do not need

Another step would be to determine the services that you need and those that you do not need. For example, you definitely won't need the WiFi service enabled if you are using a desktop PC instead of a laptop. To disable some of the services in the start menu run services.msc, using the search feature integrated into the start menu. To disable services right click on any of them and set the Startup type to Manual. Always set the service manual and do not disable it. When Windows must start the service it can easily start it in this way. If you disable the service, Windows will not start it and you may receive some error messages.
Some other services that can be waived are Computer Browser (If your computer is not connected to any network), Desktop Window Manager Session Manager (If you do not use the Aero theme), Diagnostic Policy Service, Distributed Link Tracking Client, IP Helper, Portable Device Listed Service, Print Spooler (If you do not have a printer), Remote Registry (Always disable it for Security Purposes), Secondary Logon, Server (If your computer is not a server), Windows Media Center Service Launcher,
Windows Search (If you do not use the Windows Search feature frequently), Windows Time (If you do not want to update the system tray clock time using the Internet).
Give up system sounds

Another performance benefit for your Windows machine can be obtained if you stop using Windows sounds. Just open Control Panel, then go to Hardware and Sound and then choose Sound. Un-tick the system sounds checkbox and the system sounds will be disabled.
Activate multi-core support

Last but not least, those who use more powerful processors are somewhat disadvantaged because by default Windows does not activate multi-core support. Just click on Start and then type msconfig and then go to the Boot tab. Click on Advanced Options and check the number of processors selected matches the number of cores of your processor.