Samsung have the king of phablets the Samsung Galaxy Note 4, king of smartphones the Samsung Galaxy S6 and here comes the overview of the king of the tablets the Samsung Galaxy Tab S. It appeared in the market in 2014 and now Samsung planned to launch the next generation of these devices. And the surprising thing is the first generation Samsung Galaxy Tab S is enough powerful to beat the performance of iPad Air or iPad Mini series.
Inside the Samsung Galaxy Tab S, there is the combination of powerful Exynos 5 Octa processor including Quad-Core pair @ 1.9 GHz, 3 GB of RAM and 16 GB of storage (expandable via microSD) ensure sufficient hardware for any use. As in other models, reserves the power of quad-core when (games or demanding multitasking scenario) is necessary and sufficient for normal use with one core to run smoothly and, incidentally, save battery.
At this point we should mention that we detect small delays in the interface when switching applications or navigate between menus. Not particularly bothersome, but denote a lack of optimisation by Samsung that we hope will be resolved in future updates.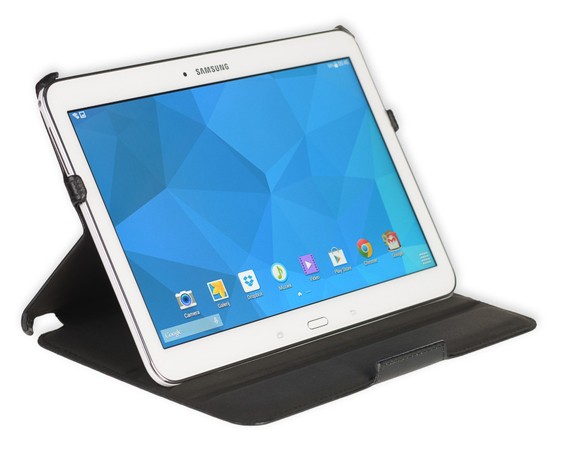 Specifications:
Galaxy Tab S 8.4
8.4-inch Super AMOLED screen
3 GB RAM
16 GB storage
Micro SD slot
4900 mAh battery
Dimensions 212.8 x 125.6 x 6.6 mm
Weight: 294 grams.
Price: Less than 400 euros.
The Samsung Galaxy Tab S is based on Android 4.4 KitKat with layer of customization Samsung TouchWiz increasingly lighter and better optimized. The brand includes a set of proprietary applications among which it is worth noting the Adaptive Display function, which automatically adjusts the display settings based on content that we are visualizing and very convenient in the multi-window mode.
To stand out from competitors, the new Samsung tablet offers extras as interesting as the fingerprint reader (identical to the smartphone from the house), 50 GB free spaces on Dropbox or Galaxy Gifts, offering access to some of the best applications to take full advantage.
The Samsung Galaxy Tab S is an outstanding tablet, especially noted for its spectacular display and a very thin, lightweight chassis. The combination of an allocation of significant hardware with the latest iteration of Android result in a practical device for work and leisure, which surpasses any other when it comes to consuming content. On the negative side, we miss one better sound (headphones are almost essential), a system of more solid anchor point and optimization software, a classic ballast manufacturers should strive to overcome considering hardware capacity riding on their devices. Regarding prices, we can buy a Samsung Galaxy Tab S 8.4 inches within 399 euros. The value seems tight and we have no doubt that this is one of the best Android-based options on the market, so if it is a fundamental variable and best compact device for usurious consider the screen and should consider this model as a great option if you are not concerned about the budget. But if you are limited with budget then don't be disappointed as Samsung Galaxy Tab 5 is coming soon.