It is no secret that today's tablets are capable of extraordinary things. With the right App in place, users can do everything from find the cheapest prices for gas to transpose text into other languages. However, people often fail to realize that there are accessories that exist beyond headphones and tablet covers. Explore some of the rarely-discovered accessories, and truly unlock the potential of the tablet that you use on a regular basis.
Mount It
The PadTab Mounting System is ideal for turning your flat interface into everything from a television to an easel. This kit comes with the ability to install two separate mounting stations that are extremely convenient for the home. People use this accessory to put cooking instructions at eye level for easy reference while others use the device to convert their tablet into hands-free media players for their children.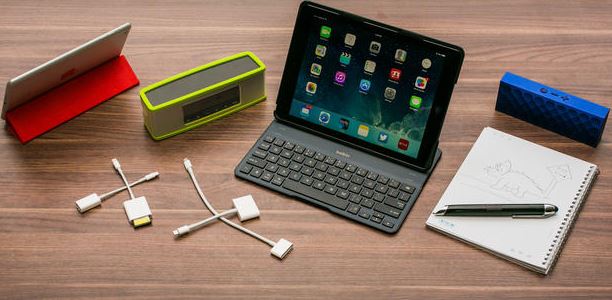 Strike a Chord
Guitar players salivate over the iRig. This accessory allows you to plug any guitar directly into your tablet for use with the Amplitude App. This program gives you a huge range of capabilities that are rarely found with modeling software designed around amplifiers and pedals. It is ideal for simple, 8-track recording in a variety of studio settings. It comes at an extremely affordable price, easing the necessary load for any traveling musician.
Charge Anywhere
Move Power is advancing the science behind portable battery packs for tablets by introducing a backup source that is outfitted with solar-cell capability. The battery pack features two USB ports to charge two devices simultaneously and uses a LED indicator so that users can gauge the charge level at any given time. The solar-powered device charges with amazing efficiency and works with cellphones as well. The battery is high-capacity, offering a substantial amount of life with every charge.
A Closer, Digital Look
The Dino-Lite Digital microscope converts any tablet into a veritable source for scientific exploration. It is compatible with any number of devices that include MAC and PC tablets. This powerful tablet microscope by Microscope.com is capable of generating 1.3-megapixel images with a magnification power that extends up to 220X. This professional microscope features new sensors that have been vastly improved over the older models, offering excellent image quality that is suitable for applications of all kinds.
Pocket-Sized Capability
The iPazzPort is a mini-keyboard that utilizes Bluetooth connectivity. The keyboard is illuminated from behind, and the handy device also features an extremely-responsive track pad. The device is USB chargeable and comes with a wealth of features that raise its coolness factor considerably. Among these features are the laser pointer and the Bluetooth dongle for greater flexibility between platforms and devices.
Your tablet will feel more capable than ever once these accessories are in your hand. From the home to the classroom, these additions make life simpler and more entertaining on a variety of levels. Raise your digital standards by expanding your tablet's potential today.