Although Black Friday, the day after Thanksgiving, is the most popular day to find great sales in stores, you're better off waiting until the weekend is over before making purchases online. You're most likely to find the best online deals on Cyber Monday, which is the first Monday after Thanksgiving. Because you're making your purchases online and have to trust the retailer to follow through on mailing merchandise, you need to be extra careful and implement several safe practices when shopping.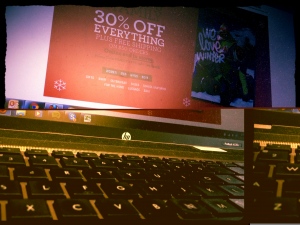 Maintain Online Security: Before Cyber Monday arrives, check your computer to ensure that you have installed the latest updates. You should not only install updates for your operating system and web browser, but also for your antivirus software. If you don't have antivirus software, now is definitely the time to purchase some and install it. You want to make sure your computer protects itself if you run across any questionable or malicious websites while you're searching for deals.
Avoid Shopping Through Emails: You'll probably receive tons of great offers for sales in your email inbox, but not all of these are going to be legitimate. Rather than clicking on links in the emails, type in the web address for the store hosting the deal and find it through the store's legitimate website. The same is true of Facebook links, which may take over your account and post spam to your wall if you run across a bad link. If you hear about a great deal on Facebook, go to the brand's website to make the purchase rather than using the link.
Maintain a Grip on Reality: If a deal sounds like it's too good to be true, it probably is. Although you'll find prices slashed to half off, or even deeper, you should keep a grip on reality and know when you're being enticed by a deal that is likely to be a scam. Particularly if you have never heard of the company offering the deal, look for the BBB seal on the website or visit the BBB site to look up the company.
Use Secure Shopping: Check a website's security status before entering any credit card information. You want the site to have an active SSL security certificate, which means that the information being transmitted is encrypted so it's not as available to hackers. You know you're shopping through a secure site if the web address on the checkout page starts with "https" instead of "http" or if you see a small lock symbol.
Purchase with Credit Cards: This technique isn't to help you put off paying for your purchases, but rather, to protect your finances as much as possible. Credit cards have more consumer protections than debit cards, checking accounts or PayPal accounts. You have no liability for fraudulent purchases and the credit card company will fight on your behalf if you purchase merchandise that is never delivered or that is faulty and can't be returned. Keep track of your receipts in your email and compare them against your credit card bill to ensure everything is in order.
Armed with these safe shopping tips, you can end up getting a lot of great deals on Cyber Monday, all without putting your personal finances or computer in danger. The most important thing to remember is to not let a great deal get in the way of exercising common sense and basic precautions while you're shopping online. In the end, keeping your finances secure is much more important than saving a few bucks on a Christmas gift.