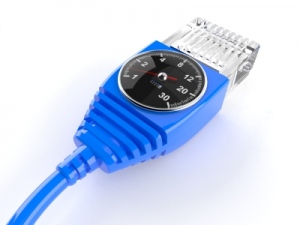 Internet has come a long way in the last decade or so. Remember it wasn't too long ago when you couldn't surf the web without tying up your phone? And those "50 free internet hours" AOL CDs you used to get in magazines, who could forget those? Internet has made some serious strides, and it's almost a given that your company does a lot of business online. That's why it's time you should seriously consider getting a T1 internet connection. A T1 line for increased bandwidth will up your business growth and has a high number of benefits. It's just about time to upgrade.
There are two different types of T1 internet connections: a full T1 connection and bonded T1 connection. A full T1 connection is more affordable, but a bonded T1 connection offers a lot higher speeds. Full T1 will get you speeds of about up to 1.5 mbps. Bonded, on the other hand, will get you up to 12 mbps. But we'll get to more on speed shortly.
Probably the biggest benefit of a T1 connection is that you have your own, personal line that you don't share with anybody. T1 also gets priority routing over DSL connections, which is a huge plus for speed, connectivity and reliability.
One huge benefit of adopting a T1 internet connection is the speed. You probably already knew that. While it obviously costs more, the results are worth it. If you're doing simple internet browsing or using the internet's basic features, you're probably just fine with an ADSL internet connection. But with a T1 internet connection, you'll always have reliable speed capable of hosting databases, mail servers, VPNs, websites, and many other complex internet functions.
Usually a T1 connection service agreement requires a clause that mandates your service provider to respond to any service outage almost immediately. This can be key, because extended outages can cost your business customers and profits. Cable providers usually don't have this kind of QoS agreement. Cable or DSL could go down for days without any sort of response from your provider, so opting for a T1 connection will give you added reliability.
Now, an obvious downside to T1 is the cost. It's downright expensive. But the prices do range based on what you want, so it's definitely possible to find a contract that will fit your price range. Just search the internet; there are plenty of ways to compare prices for T1 connections, so search around to make sure you find the best one. Another downside to a T1 internet connection is that it typically is tougher to set up than either a DSL or cable modem connection. But in the long run, if T1 is what you need, there is no substitute.
Now that you have the information, you can decide what kind of T1 internet connection is right for your business. If you're looking for speed and reliability, then T1 is definitely the right choice.
Image source: mywan.com