Does your Google Adwords bill was high and ROI had dropped down too? If so, then this may due to "Click Fraud". If you've never heard about this term, then you will get shocked after knowing its truth. It's a menace for your Google AdWords account. You can lose your precious dollars, if any strict step is not taken soon.
Undoubtedly, the Google AdWords is an amazing tool to earn money. And, wherever there's scope to make huge bucks, fraudsters are not far way to steal it. Many businesses spend a lot on the Paid Advertising, so they can create brand awareness among the target customers. But, guess what? The Click Fraud is waiting to disturb their budget badly.
Let's shed some light on the Click Fraud technique to develop a better sense of understanding. So, let's begin with its definition.
What is a Click Fraud?
It is a black-hat technique, used to waste any PPC advertising budget through fraudulent clicks, and eventually turning off the ad for a day. The users have no intentions of purchasing, but want the advertisers to reach their budget caps early in the day. This is why, they click multiple times on a single ad.
After reading this, you're probably wondering that of how many of the clicks you're paying for being valid? Additionally, you will also be thinking about the users, who did this. Isn't it? Well, in that case, the next section will cover your interest.
Who is after Click Fraud?
There are total three offenders in the list, who are involved in this activity. Let's have a look:
No.1- The competitors are the main culprit. They can't outbid you for rank 1, so they try to steal your position through repeated clicks on your ad.
No.2-The second position goes to the professional fraud rings. They use target expensive keywords backed by the famous corporate companies. With automated programs and clickbots, they can garner millions of fraud clicks and views in a single day.
No.3- Finally, last but not the least, the site owners. They also have an active participation in the same. By manually clicking their own ads, they earn money from their clients.
Regardless of who attempts it, the result will always be the same, i.e., financial loss.
What does Google do about Click Fraud?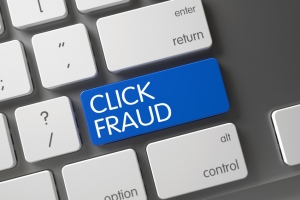 Many of you thinks that Google won't care about the click fraud, they will get paid either way by the end of the day. But once these invalid clicks become serious, they can start losing advertisers. Therefore, they have got a hold on this situation to a great extent. Over the last few years, there is a huge drop in the percentage of click fraud.
How to identify Click Fraud in your account?
Checking whether you're a victim of click fraud or not requires some investigative work. Note that- your goal is to find evidence, which suggests that a specific person is purposefully hitting on your ad repeatedly without any intention to buy something from you. So, if you want to know if malicious clicks are happening, then:
Collect the IP address– Every internet user has an IP address. It helps know exactly where the request is coming from. This gives the webmaster a clear idea if it's the same person who is clicking again and again on your ad.
However, it' does not mean that multiple clicks from a person on a single ad can be counted as bogus. To know this thing, you've to look at their time-stamps.
Check time stamps– You have to notice that if the person is clicking your ads in short time intervals with the similar search terms or not. If it turns out to be right, you can assume it as an invalid click.
To ensure this, you need to switch towards your action time stamp for confirming that the person didn't get anything from you, and then to find the user agent. This will give you information about the device's features used to access your website- type of device, software, internet browser, etc.
How to prevent Click Fraud?
If you're not 100% sure that Google can weed out click fraud, then there are other ways as well to fight back with this issue. You can try these result-driven tactics to get the best results.
When you face trouble in identifying a certain IP address that you think responsible for committing the click fraud, you can exclude it from your campaigns. This will restrict the people present on that network from seeing and clicking your ads.
Within the Google display network, you will see that the majority of click fraud is done with the domain extensions that aren't regular. For example, the extensions like (.com and .co.uk) are quite popular, and bought less by the spammers. They use uncommon extensions, such as (.co.za and .club) to commit fraud. As a result, the campaign managers don't take a minute to block the non-common extensions.
Site Exclusion from the Google Display Network
If your ads are running on the Google display network, then you should skim through the list of websites on which you advertise mostly, and delete those that appears fake. It's simple to figure out which one is genuine based on the domain name, the quality of design and content that it is offering.
Conclusion
To stop the click fraud, you have to keep an eye on the new IPs clicking your ads again and again. This check has to be constant. This means that you have to spend an adequate amount of time for checking your server's log. You will definitely tackle this problem, if you follow the prevention techniques discussed above.
Author bio
The author is a Digital Marketing expert at Sparx IT Solutions, possessing huge working experience in the PPC advertising. Through his write-ups, he educates the readers about the proven ways to generate more revenue with the help of the digital media.