Having doors opening out to your garden can be a lovely addition to any home, especially when the sun is shining and the weather is fine. In the summer months, having your flush sash windows open and your garden doors open can let a great amount of warmth and fresh air into your home. There are so many different types of doors, all with different functionality and style. But which type would suit your home? We have broken down 4 of the most popular styles of doors to help you make an informed decision.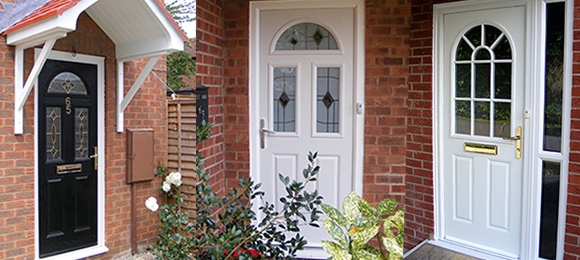 Generally it will all come down to a choice of what you want your doors to look like and what you want them to bring to your home functionality wise. Are you looking for small, easily maintained doors or are you looking for large sliding doors that give a great open space to your home.
Patio Doors
Our first door here is the patio door. Patio doors are the most common style of door in UK homes, with the large glass panels letting a good amount of natural light into your home. Patio doors work by sliding open, with one glass door sliding in front of the other. This gives a good amount of space to enter and exit your home. uPVC Patio doors come in a range of stylish colours and finishes and can be fitted with either double glazed or triple glazed glass to give you great energy efficiency.
Patio doors can also be fitted in a range of different sizes, whether you are short of space or are looking for a more impressive feature to the back of your house, patio doors are always a safe choice.
French Doors
French doors are a popular choice for doors out to the garden as well as being used as room separators inside. This type of door is made up of two doors which open outwards to give a large opening to your home. This can be good if you are looking to open your home out into the garden.
There are many different styles of French Doors. You can choose uPVC French doors in a range of different colours and opt for Georgian bars to give an extra later of style to your home. French doors are also available in double glazing and triple glazing, helping to keep your home nice and warm in the colder months but open with easy access in the summer.
Slide & Swing Doors
If you are looking to add a highly modern feel to your home and have different options when it comes to opening up your home to your garden, then Slide & Swing doors are for you. This modern option is gaining great popularity and it is easy to see why. These doors give you different options for opening the doors, making them perfect all year round.  If you just want to open one panel to pop out to the garden quickly you can, the panel will swing open allowing you quick access. The beauty of these doors is the ability to also slide the entire door open leaving a massive space, opening your home completely to the garden.
It is this multiple functionality that makes the slide & swing doors so popular with home owners and available in a range of colours with double glazed or triple glazed glass, you can see why this is a great investment for any home.
Bi-folding Doors
Bi-folding doors are another great modern option. With double glazed or triple glazed glass, they allow a great amount of sunlight into your home, whilst still keeping out the noise and being very energy efficient.  The minimalistic style gives you less frame and more glass, to give you a beautiful seamless space between your home and garden, even when the doors are closed.
It is the "Bi-folding" element that really makes these doors so popular. The doors concertina into each other to close, making the most of your space and leaving a wide open entrance to your home.
Garden Door Prices
You now know the difference between each of these doors as far as functionality and style goes. With patio doors, French doors, slide and swing doors and bi-folding doors all having their own impressive selling points, it may come down to price to help you decide which type of door to choose for your home.