Samsung is going to launch the new generation Galaxy tabs and it will no doubt be very much interesting as the Mobile World Congress will be taken place within a month and Samsung wants to make an impact before that. The rumor is already popular that this famous manufacturer of mobile phones from Korea is going to launch two new tablets to the market.
A couple of photos of the two new tabs have already come into light. However, it cannot be assured that the pictures are of which one. As per the picture is concern the device is a 10 inch tablet but as the unit number of the device is extremely blurry, it is tough to determine exactly, which one it is.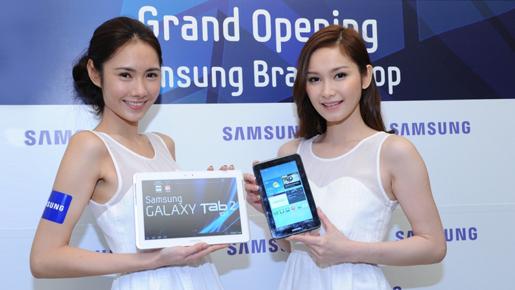 The app drawer is also shown in the box of this new device but the icons are so big for the screen that it is not fitting. It can be assumed from the picture that this device is going to be a budget tablet and the resolution of this device will be low.
As per the size of the tablets is a concern, Samsung has followed the two sizes of 7 inch and 10 inch from the very beginning. Well, this year Samsung is going to change the tradition as they are going to launch a device which will be about 8 inches rather than being a 7 inch tablet. This device has already become popular. Therefore, the success of the two new tablets of Samsung is expected.
Galaxy tab 2 has already been released by Samsung though it is a limited version. This device has 4.1 Android Jelly beans version. The display of this device is of 7 inch. The resolution is 1024×600 TFT. The processor is of 1 GHz dual-core TIOMAP. The internal storage place is of 8 GB. It has a rear camera of 3-mega pixels. It has a 4000MAh. Battery.
In Barcelona event, Samsung is going to launch the bigger Galaxy Note. The dimension will be of 8 inch which will be a new experience of the Samsung tablet users. It will have physical button though it is a tablet. This feature was not seen in any other tablet of Samsung before.
Some important information about this new Samsung device has come into the market. As per the expected resolution is concern it will be 1280×800 which is quite satisfactory. It will also have a rear side camera of 5 mega pixels.  It will have a 2 GB RAM inside. Therefore, high speed can be expected. Feature like S-Pen will also be available with this device.
As per the tablet market is concern, Samsung has maintained a very good momentum which they will try to carry with the two new tablets which they are going to launch in the market.
They have to maintain their momentum especially to fight with their close competitor Apple whose iPad still often dominates the tablet market. Samsung is expecting to have better impact this time with the two next generation tablets.