Since there was no flash player in default Android web browsers including Google Chrome, Android users have met great trouble when they want to watch flash videos or play flash games on their Android devices. Though HTML5 is getting more and more powerful and some insiders even predict that Flash will be displaced in the future, Flash is still playing an essential part in few websites. Some Web sites are still using Flash. So, how can you enjoy the flash-based websites on your Jelly Bean device without support of Flash?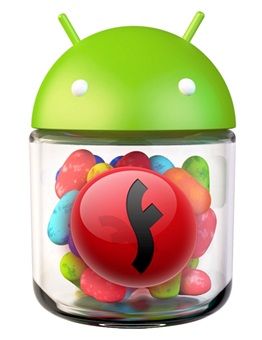 Don't worry. We would be happy to show you how to install Flash Player on your Jelly Bean device. Since Flash is not available on the Play Store, we need to install it from a side-loaded APK manually. Before we start, you should clear know that there can be risks to do that. Due to lack of official support of Flash on Android, there will be no security or stability updates, no official support channels if something goes wrong. If you would like to take the risks, please follow us to install Flash Player on your Jelly Bean device step by step.
How to install Flash Player on Jelly Bean devices?
After you decide to take the risks, you can start with the preparation which is to make sure your Jelly Bean allows you to install the non-market apps. You can make it by going to Settings to tap on Unknown sources to enable installation of external apps. And then, you can follow the steps below:
Step1. Download and install Flash Player
First of all, you need to download Flash player. Since Flash is not available on Google Play Store, you need to download the .apk file of Flash Player. You can find the download link here: http://d-h.st/x4v. When finishing downloading the .apk file, copy it to the SD card. And then install the .apk file on your Jelly Bean device.
Step2. Check the browser
After you install the Flash player, go to check if your mobile Web browser supports it. Google Chrome doesn't support your newly-installed Flash apk. We recommend you to download Firefox Web browser or Dolphin Web browser. Of course, you don't have to use the browser that you use for viewing Flash for every Web experience. Only use it when you need to view Flash-based websites.
Step3. Setting up Flash
After installation of the browser, you have to enable Flash player on the browser. Head into Settings>Advanced> Enable plug-ins. If you want to enable Flash content all the time, choose "Always on", or choose "On demand".
Well, finally, you can enjoy flash on your Jelly Bean devices, very easy but risky. Well, if you want to watch downloaded Flash files like SWF animations that are saved on your computer on your Android devices, you can use iOrgSoft SWF Video Converter Mac (or SWF Converter for Windows) to convert Flash SWF to Android supported formats. After conversion, you can smoothly play Flash SWF file on Android devices without Flash player.