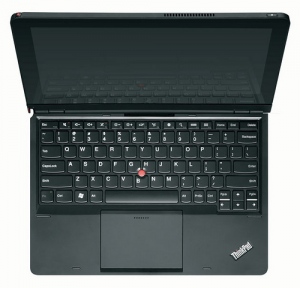 "Laptop, Tablet, and everything in between." That's Lenovo's slogan for their high-power premium tablet/ultrabook hybrid. We were lucky enough to get an early preview of the device, which launches in March. Find out all about it in our review.
The hardware
The real blow-away selling point of the Helix is the sheer computational grunt contained within the main laptop body. Ivy Bridge i7 processors push Windows 8 smoothly, and power the bundled graphics software with aplomb. The full HD 1920×1080 LED display is rich and clear, whether you're using the device in its laptop, tablet or presentation mode.
The display swivels on its hinges and lies flat against the main body, leaving you with a perfectly functional tablet experience. Moving from the docked 'laptop' mode to the more mobile-friendly 'tablet' mode is seamless – Lenovo have a good reputation for build quality, so those display hinges should be able to take a bit of punishment (which they will incur in their line of duty, for sure). The 'presentation' mode involves flipping the screen on its horizontal axis, leaving the keyboard 'behind' the display – it might sound a little odd, but it's great for movie-watching.
The Helix also includes a pressure-sensitive Wacom stylus: a feature that's not advertised particularly forcibly, but one which we feel hugely increases the usage value of the laptop. Wacom tablets with built-in displays retail for anywhere between a few hundred and a few thousand pounds. An 11-inch screen isn't ideal for professional sketching, but it'll suffice at a pinch.
As expected from the next class of Windows 8 tablet, the Helix supports 3G, 4G and NFC out-of-the-box – technologies which are probably going to become indispensable to mobile working over the next year. Prices are steep – models start at around £1,000 – but the Helix is arguably targeted at a fairly niche, professional market looking to spend around this figure anyway.
The software
We've praised Windows 8's manifold virtues in the past, but to recap: it's sleek and sexy, powerful and fluid, but woefully understaffed on the application front. Doubtless this will change in the lead-up to the Helix's March launch, but it's frustrating to see so capable an Operating System hamstrung by so fundamental a problem. Windows 8 also plays two ball games: the new, swish Metro interface, and the regular old Windows 7 desktop experience. We hope, as the Windows 8 App Store fills up with high-quality software, that the Windows 7 desktop can be gradually phased out. To the annoyance of more than one tech commenter, Microsoft's flagship Office software isn't yet Metro-compatible, so you're left with a pretty unsatisfying productivity experience if you choose to use it. Of course, there are millions of web applications out there that purportedly offer a more pleasing touch-based office experience, but it's disappointing to see Microsoft's favourite child so woefully unprepared for the next-generation platform of Windows 8.
Conclusion
The ThinkPad Helix is a bold new category of device. It's the jack of all jacks of all trades, a device as comfortable in any one of three configurations as it is the others. It's also a lot of fun to use – and the inclusion of a Wacom pen might just help to clinch it for anyone who designs, sketches or takes notes on their mobile device. Windows 8 looks good and feels great, but it's still a little bare on the software front. We expect this will change over the next few months as the platform establishes itself: perfect timing for Lenovo's Helix launch.