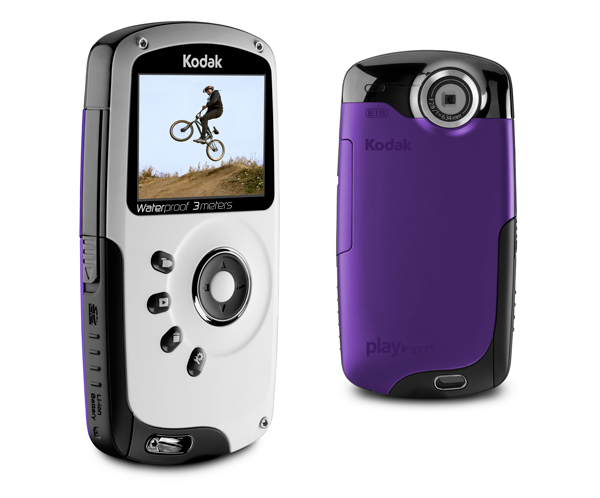 The new Kodak Playsport video camera is one rugged and highly durable camera. A pocket sized video camera that makes a great companion when you want to go adventuring. It has been designed with consumers whose lifestyles can best be described as active. You can shoot underwater with the simple touch of a button and you can capture 1080p high definition video.
Customers who are looking for a waterproof camera cannot go wrong with their choice of the Kodak Playsport. It is waterproofed upto 10 feet depth with integrated software, USB cable ports, electronic image stabilization and Imaging Science that provides videos with crisp detail and vibrant color. What is noteworthy is that the camera produces reduced blurring.
Kodak Playsport combines the superior features of a high definition digital video camera with a very durable, waterproof casing. It really is an adventurer's camera and performs well in wet weather conditions.
Some of the feature highlights of the Kodak Playsport video camera include full HD 1080 video capture, waterproof upto 3 meters or 10 feet, 2.0 inch LCD color display with glare shied, electronic image stabilization, still photography is captured at 5 megapixels, USB editing and uploading to the internet, low light performance to an excellent degree, smart face tracking, lithium-ion rechargeable KAA2HR battery pack, remote control, PC and MAC compatible.
The Kodak Playsport is available in black, purple and blue and retails for $149.95. There are many accessories that customers may want to buy for use with the Playsport like the flexi tripod, memory cards, camera bag, battery charger options and remote control.
The waterproof capability of the camera is a major plus point since it works very well up to a depth of 10 feet. The rugged design allows user to capture video in practically any environment. Thanks to the in built electronic image stabilization feature, this steady as a rock camera removes all fear of blurred, shaky shots. Video is sharper and it does not matter whether you are shooting in snow or seaside environments.
High definition still pictures are taken using 5.0 megapixels and the LCD glare shield is great for taking pictures in the sun – simply turn the setting on. Sharing pictures has never been easier, upload using the USB cable and send by email to your friends. Video recording lasts for 10 hours thanks to the expandable up to 32GB card slot. It works just as well with Macs and PCs.
The Kodak Playsport is a very rugged model, ultra compact and easily portable on any adventure you wish to embark upon. It has been designed for outdoor video image capture, especially live action, something that is harder to do with the more traditional cameras.
The Kodak Playsport offers some great software features that include editing and trimming videos, adding pictures and music to videos, voice over narration for the footage shot and editing of still images for printing on a Kodak printer.
The reviews on this camera are good and the camera is well worth the money you pay to buy it.