The content of your website that appears on another website or similar to the text in multiple sections of your website is referred to as duplicate content. It has a bad impact on website's ratings as search engines considers that you have copied the content either from a competitor or another page of your website to fill the space and deceive the bots. The search engines will penalize your website straightway in rankings if similar content is found on external sources. However, sometimes, it becomes difficult for search engines to decide which version of the duplicate content is more accurate to manifest against a search query. Search engine rewards web-pages higher having unique content and they filter the duplicate content.
Google concludes that its algorithms are designed not to penalize the websites containing duplicate content. The issue is that websites having duplicate content have observed declined rankings. When a user lands on a website, he expects to view distinctive content, not the one that is copied from another domain.
Common causes of duplicate content
Separate versions of website
Most of the times a website have more than one URL links having the same content on both. For instance, a website https://www.fmeextensions.com/ can also be accessed without using www prefix. Web crawlers read those as separate URL's and consider it as a duplicate content.
Identical product information
It is common among eCommerce stores that the product listed may have similar product description present on other websites too.  Also many websites copy the blog content present on your website and publish it as their own.
Multiple store views
Many times the website managers showcase the website's localized domain names in relative regions. If the content of the website is not translated in the language of that particular region and is same as the original website's version, the duplicate content issue will arise.
Resolving duplicate content issue
Sitemaps and back-linking
An extensive sitemap has great importance in defining the structure of a website.It is essential that each web page should be connected with a single URL. A website having a Sitemap assists search engine bots to crawl the website efficiently. The elements on your web site should follow a proper hierarchy where each navigation link is manifested explicitly in both desktop and mobile versions.
Merchants can also make use of Magento 2 Sitemap extension to depict clear website's image and to improve the user experience. Now there is no need to manually update your sitemap on each integration of new product or element as this extension specifies the new website's update in the Sitemap automatically.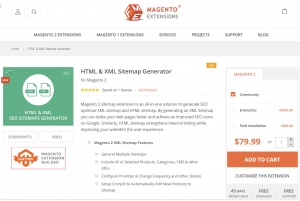 In addition, merchants can showcase navigation links to pages by integrating this extension. A poor URL structure generates too many URLs against single page. Also, avoid stuffing of keywords for back-linking as it generates a bad impact and looks spam. Try to find out duplicate navigation links to products and pages by using crawler.
Canonical Meta Tags
Making use of canonical tags is common method to get rid of issues caused by the single page having multiple URLs, which cause its content to be found on many places. It is mostly witnessed in eCommerce stores, where particular product content gets specified on multiple places. If you are running a Magento based online store, you can make use of highly effective Canonical URLs extension to get rid of duplicate content issues. The extension assigns canonical tags to product or CMS pages specified multiple times, in order to differentiate them from each other. It will be easy for search engines to distinguish and showcase them accordingly when searches are performed by users.
Usage of No index No follow tags
Many web pages needs only to be the part of a website but don't worth to be indexed. Because they contain information that is either confidential or they are intended to convey instructions and to obtain data from users. These pages are assigned No Index No follow tags for not getting indexed or the links present on the page not get followed by search engine bots.
For Magento based websites it is simple to limit your website's content to get appeared on SERPs. The merchants are only required to integrate No Index No Follow extension to change Meta Robots tags of CMS pages. Hence, optimizing your website's pages for a perfect search appearance. Now merchants can get away with duplicate content issues by assigning one copy of the content No Index No follow.
Moreover, the extension also assists integrating Index No follow, No index follow and Index Follow tags for smoothly controlling the indexing and leading the web crawlers according to the website needs.
Index No follow tags allow indexing of pages but forbid following navigation links present on those pages.
No index follow tags prohibit the indexing of web page, but allow web crawlers to follow the navigation links.
Index Follow tags allows search engine bots to obtain link juice from web page and index the page to be found in SERP's.
Final Words
The duplicate content hugely impacts website's rankings, as it becomes difficult for search engines to decide which version of the content is more authentic and should be manifested against a search query.