Nocolok Flux is a commonly used fluxing agent which is used for brazing aluminium components. It has an extremely low water solubility (0.2 % to 0.4 %), is non-hygroscopic and non-corrosive in nature and has an indefinite shelf life. Further, it is easy to apply, for example, it can be applied by spraying, dipping or flooding and the loading of the flux is controllable.
Why Brazing?
Brazing offers enhanced corrosion resistance, thus making the surface of the object suitable for different types of surface treatments, for example, painting. Brazing done using s suits complex product designs, continuous production and a variety of alloy selections. Hence, it is an ideal choice for brazing (the process of joining two or more metals); it is used in a number of industries.
These are:
Household Appliance Industry
Nocolok Flux is used to braze aluminium and stainless steel for manufacturing pots and pans. A mixture of filler metal powder and flux is often used between the aluminium base plate and the pot.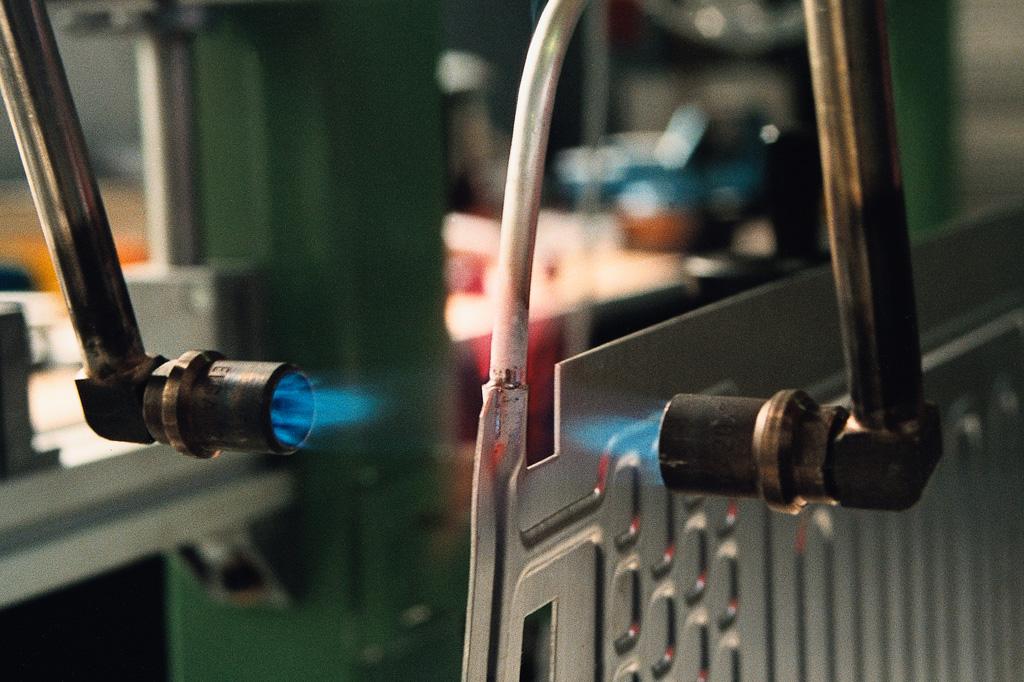 Electrical Appliance Industry
Conventional flame brazing technique is used to join aluminium tube to steel or stainless steel. A filler metal wire is placed into the joint before this process.
Most automobile parts manufacturers now use aluminium brazing process to manufacture automotive heat exchangers such as radiators, condensers, evaporators and heater cores. Hence, Nocolok Flux is used in this industry. The process involves joining components using a brazing alloy with a melting point lower than that of the other components.
Commercial and Residential Air-Condition Industry
Air-conditioner industry has been evolving rapidly and the role of Nocolok Flux deserves to be mentioned. It is used to manufacture brazed micro-channel heat exchangers. These are cost-effective solution which provides the following benefits:
Minimizes the temperature between the air-flow
Improves the heat transfer efficiency of heat exchangers
Helps the refrigerants to reach phase-change temperatures quickly by increasing heat-transfer
Lesser energy consumption
Pressure drop reduction
Lower weight
Refrigerant charge reduction
Reliable performance
Noise reduction
Recyclable
Refrigeration
Nocolok Flux is used for aluminium or copper flame brazing in the refrigeration industry. Generally, copper tubes are brazed to aluminium roll-bond tubes or panels.
Are there different types of Nocolok Flux?
Yes, there are. Ask your seller to decide on the type of flux you should choose depending upon the industry-specific usage. Some of the types are:
NOCOLOK® Flux Drystatic
NOCOLOK® Sil Flux (extra fine grade)
NOCOLOK® Sil Flux (fine grade)
NOCOLOK® CB Flux
NOCOLOK® Cs Flux
NOCOLOK® Zn Flux
NOCOLOK® Li Flux
NOCOLOK® Li Flux Drystatic
NOCOLOK® Binder (water-based)
NOCOLOK® Flux Plus Binder Mixture
NOCOLOK® System Binder (water-based)
NOCOLOK® Sil Flux (extra fine grade) Plus Binder Mixture
NOCOLOK® System Binder (water-based)
NOCOLOK® Thickener (water soluble)
NOCOLOK® Precoating (water soluble)
NOCOLOK® Braze Paste x43-7