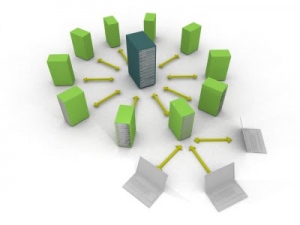 Cloud computing is gaining in mainstream popularity, and that interest isn't expected to slow down anytime soon, however a new era is on the horizon as web hosting and cloud computing provider Rackspace partners with several big names in technology in an effort to standardize the cloud. The company has teamed up with NASA, among other big name partners, to create an open source cloud computing system named OpenStack, which is made up of tried and tested code that Rackspace already uses for its Cloud Servers and Cloud Files. Additionally, some code from the NASA Nebula Cloud Platform is also being used in this project.
Open source cloud software will allow individuals and companies to create their own products, which will help to standardize the cloud. Standardization will make it easier for applications and software programs to work together and help to prevent cloud lock-in. Allowing customers to choose, and freely change, their cloud providers will help them gain support from cloud users. This will also help private and public cloud based platforms come together providing more options, and a better experience, for cloud users.
Gaining inspiration from the success of Android, the partners feel that the OpenStack OS can succeed in the cloud market. It will be released to users under the Apache 2.0 license. A few of the other companies involved in OpenStack's development include AMD, Citrix, Dell, Intel, Limelight, Puppet Labs and SoftLayer. Citrix provides the virtualization technology while Dell, AMD and Intel have a great influence in regards to hardware. Currently, Dell has plans to put OpenStack on its systems. However, in order to make the OpenStack OS an overwhelming success and change the future of cloud computing, more hardware partners will need to be added to the team.
Just recently, Rackspace announced Whiskey, their testing tool for Node.js applications, which has been in development and used internally for two years. Whiskey runs on Node.js and is open source thus giving it scalability and great potential in the future. Although it is only running on a single process at present, the software developers have said that Whiskey has a master process with the ability to spawn child processes and communicate via TCP. Down the road, the developers hope that Whiskey will have the ability to be run across multiple servers.
With all of the new developments in cloud computing, a vast number of jobs are opening up for software developers and system engineers. Creative and motivated people are needed to develop and create new software and companies in the race to get their products in the cloud will be hiring in great numbers. More jobs in network security are expected as well. For those already in the computer and IT industry, or those wanting to jump into a new and exciting career, now is one of the best times to find a new job. I've been hooting about Rackspace for awhile now, and if you want to join the infamous Racker community (word has it they are supreme when it comes to customer service and dodgeball) you may want to consider joining the talent at Rackspace to help forge ahead into the brave new world of cloud computing for all.