Online antivirus scanners are very useful when it comes to a second opinion without having to install a complete security product. Therefore, it would be useful to evaluate the most popular such products. In the following lines you will be provided with information about the best such software that you can use.


Some of the most popular solutions are Bitdefender QuickScan, BullGuard Online Scanner, Comodo Cloud Scanner, Free ESET Online Scanner, F-Secure Online Scanner, Kaspersky Security Scan, McAfee Security Scan Plus, Norton Security Scan, Panda ActiveScan and Trend Micro HouseCall.
Many manufacturers not only provide traditional online scanners that you can run in the browser, but also offer standalone antivirus scanners that can be installed on your machine and run alongside other security products without any performance problems. These can be used whenever you need confirmation that a certain file does not contain viruses.

Before reading on, note that these applications cannot and should not replace proper security solutions such as antivirus, anti-spyware and firewall. It is recommended to always use a complete product for the safety of your computer, which will help you identify the problems related to your machine.

BitDefender QuickScan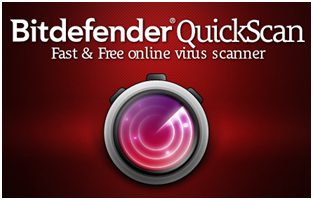 BitDefender QuickScan is really one of the real online scanners. You can run it directly from Internet Explorer by just installing the ActiveX control provided. However, before it could be used you need to launch Internet Explorer with administrator rights. Once you press the Scan Now button, it will only take a few minutes to scan your computer.


Unfortunately, although this application is quick and easy to use, it does not offer much, because in order to disinfect your computer the only option provided is to install the desktop application. There are better online alternatives security solutions offered by other manufacturers.

BullGuard Online Scanner

The first thing you'll notice about BullGuard Online Scanner is that downloading and installing the files it needs to operate will last very long. Like other online antivirus scanners, you will need to download and install a small ActiveX file. But before scanning you need to download about 118 MB of data. If your download speed is low you have to wait for some time. Once this process is complete, you can run a quick scan, a full scan or a custom scan. Quick scan takes about 10 minutes.


Comodo Cloud Scanner

Comodo Cloud Scanner is a standalone application that you will need to download and install. Although it looks good, it seems that there is only one type of scan available. This scan will last for about 40 seconds and will also provide you with information about privacy issues, registry errors and unnecessary files.


ESET Free Online Scanner

ESET Free Online Scanner is one of the few good and useful online scanners. This software is running in Internet Explorer and only requires installing an ActiveX control. Before running a scan you will need to download the latest virus definitions on your computer. After this step, you can choose to run a full scan or a custom scan standard. For each scan you can customize various aspects such as automatic removal of detected threats.