Photographs capture beautiful moments of your life that are gone forever and never can be reproduced. When you take these photographs with the high definition Smartphone camera, and photos are deleted by mistake or due to some system error; this could be a loss.
There are several things you can do to keep yourself from losing data. First, you should set a daily routine to take a backup of your Smartphone photos and other important stuff. Taking a backup to your computer is probably the easiest option and by doing so you can also free up some space on your Smartphone. Another option is to automatically backup your data to iCloud. Once, you enable iCloud on your Smartphone, all photos taking with the camera are automatically transferred to iCloud.
But all these tips are useful only for the existing photos and messages, not to those you had deleted accidentally. There is great data recovery software called Wondershare Dr.Fone for Android that is used to retrieve lost photos and text messages from Android Smart phones i.e. Samsung Galaxy Smartphone. This software actually retrieves the lost information from the SD card inside a Smartphone. You can also preview the lost messages and contacts and recover only those you select. Below are the steps to retrieve the lost data from your Samsung device:
First you need to download, install and launch the software Wondershare Dr.Fone for Android and then connect the Samsung Galaxy Smartphone with your computer.
The next step is to enable USB debugging on your Android device. You can do this by entering the 'Settings' tab.
After debugging, you'll have to scan and analyze the data on your Smartphone.
You have to 'Allow' the authorization on your device if it is rooted before. Make sure the procedure has begun; some devices ask many times to 'Allow'. Don't disconnect the device while the scan takes place.
The last step is to preview the lost data including messages, contacts, and photos. Now you can select all the recoverable data in the scan results and pick only the ones you want to retrieve. The preview also contains the current pictures and messages stored in your phone but the lost data is highlighted in red so you can easily pick.
After marking the selective data, save it to your computer. Contacts can also be saved in other formats i.e. CSV and vCard.
Wondershare Dr.Fone for Android supports multiple Android devices and Android operating systems. It also supports all rooted Samsung devices even without Android OS.
Learn more about this software, http://www.wondershare.com/data-recovery/android-data-recovery.html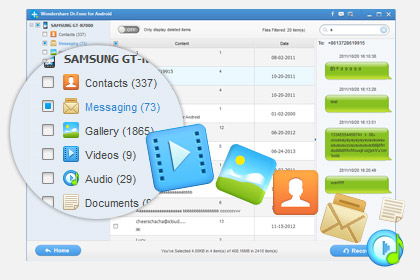 Author Bio: Sadia Farooq is a web enthusiast and ingenious writer and blogger. She loves all things creative and runs several blogs and websites. Do keep in touch with her on facebook.
Find me on Facebook