Control Your Favorite Tunes Anytime, Anywhere with the speaker trio by bem wireless; a Three Speaker, Wireless System for the Home or Office, Now Shipping
Modern, no-hassle speaker set enhances your lifestyle, allows user to enjoy music in multiple rooms
CHICAGO- January 23, 2013- bem wireless, an innovator of wireless solutions and consumer electronics, begins shipping the highly anticipated speaker trio. First unveiled at the Consumer Electronics Show earlier this month, the speaker trio is exactly what the name implies: three speakers that share a wireless connection to its base. An audio product designed to enhance the user's lifestyle, this speaker system brings pounding, pulsing beats to multiple rooms with the control of a single Bluetooth device.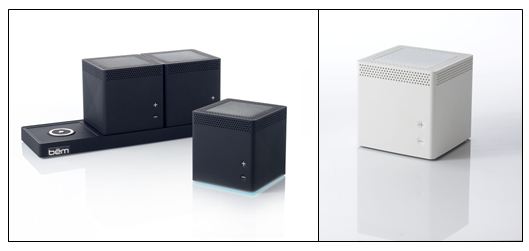 "Elevating our consumer's lives to their highest potential is our top priority at bem," says Bryan Katzel, Director of Marketing and Product Development for bem. "From conception to execution, we crafted the speaker trio to help eliminate wires with a simple interface that allows users to forget about complicated audio gear and just enjoy their music."
Just place all three speakers in multiple rooms to simultaneously ramp up the tunes at your next party. The wireless connection each speaker shares with the base allows the user to control music from the same iPhone, iPad or other Bluetooth-enabled device. Each speaker has up to 120 feet of wireless range which gives plenty of options for finding the perfect location. When the party is over, simply return the speakers to the base for an easy, wire-free recharge.
No party? No problem! The speaker trio can be used for everyday use as well. Place the speakers around the home to hear your favorite tunes while doing chores or work. The speaker trio offers approximately six hours of battery life on a full charge.
Small and compact, each individual speaker is 6"x6" but boasts powerful sound. Additionally, the touch-sensitive buttons are easy to navigate and use. The bottom of each speaker glows to indicate when it's ready to use and to alert the user when the battery is charging.
The speaker trio features a clean and modern design with an elegant soft touch finish which matches nearly any home or office décor. It comes in black or white.
The speaker trio retails for $299.99 at www.bemwireless.com.
Technical Specifications
Up to 120ft of wireless speaker range
Up to 25ft working Bluetooth range to base
About 6 hours of battery life
Conductive wireless charging
Aux in and out
Auto pair capable
Touch-sensitive buttons
Bottom glow lighting
Soft-touch finish
Approximate Size of 3 speakers on base: 18" x 7" x 6"
Approximate Size of 1 speakers: 6" x 6" x 6"
About bem wireless
bem wireless is an innovator in consumer electronics, providing wireless solutions for everyone. By identifying user's experiences, bem makes it easy for its innovations to be integrated into their lives.
Formed in 2012, bem brings together entrepreneurial spirit and know-how plus the track record for successful engineering execution.
Beginning with the audio line, including mobile speakers and wireless headphones, and quickly moving on to the development of video and a host of other lifestyle-enhancing products, bem is tireless about keeping wireless portable, affordable and accessible.