WordPress, as we all know, is an incredible and highly flexible Content Management System that allows you to create websites of different niches. Whether you are planning to create a simple blogging website or want to engage in selling products and creating a social networking website, WordPress along with different themes and plugins helps us to do it all. To create a fully-functional online store WordPress offers two amazing plugins WooCommerce for selling physical and digital products and Easy Digital Downloads for selling only digital products. 
Basically, both these offer you features to sell and manage various e-commerce products either physical or digital products via your WordPress website. But the less known fact is, apart from selling physical and digital products, you can also sell services via your WordPress website. This can be done with the help of addons to the core EDD and WooCommerce plugins called Woo Sell Services and EDD Sell Services. Both these add-ons offer useful features to let you also sell services apart from physical and digital products via your online store.
What Sort Of Services You Can Sell Online?
With e-commerce functionality on your WordPress website, you can sell almost any type of service online. Few examples of online services include:
Professional services like architecture, document preparation, legal writing, medical writing. 

Design Services such as designing graphics, editing images, infographics, designing websites, prints, leaflets etc.

Technical services like technical support, printing, developing websites, developing software and programming. 

Expert Services like CV and resume writing, career development, coaching, consultations, photography, web analytics, SEO, SMM, copywriting and more. 
You can also sell services in packages that people can select and bid their quotes such as website development and designing, website auditing, website technical support, etc. 
Ways In Which Services Can Be Sold Online
A service can be sold online in two ways. 
Selling Via Contact Form And Getting Quotes
Firstly by listing all the services on your website and allowing your customers to contact you via a contact form. In this option, a customer clicks on the service they need and complete an online contact form. When they submit the form, a vendor receives an email with the information and performs services offline. This method is usually not very favorable when it comes to selling services online. With this option, there might be many problems which can decrease your sales in the long run. These include:
1. Ineffective Service Display: 
The first problem that arises with this option is an ineffective service display. All a vendor can do is to list his services on his website with no extended features such as multiple pricing, quotes, variations etc. There is also no option to select multiple services in one place.
2. Pre-order and post-order questions: 
Since there is one contact form for services, it becomes difficult for a vendor to post any pre-order questions that he might need to ask the client regarding the service. Asking the requirements from customers will result in stacked up email threads. Moreover, it will not be a real-time conversation which will further increase the project timeline. Similar is the case with post-order questions. Without e-commerce options, it becomes difficult for a customer to know about his order status or ask any further questions from the vendor via the website itself. Thus, there is a lack of proper conversation between the vendor and the customer. 
3. Getting Service Reviews: 
Reviews play a very important role in any type of online service. They not only improve the seller's portfolio but also increases his conversion rate. Without an e-commerce option, it becomes difficult for customers to provide real-time reviews which can be displayed on the seller's site. 
4. Project revisions:
Project revisions also become difficult as there is no proper conversation channel between the customer and the vendor. If a customer is not satisfied with the work done, he may not be able to consult the vendor in real-time. Again, long email conversations are the way out but they are not real-time thus increasing the wait time for both parties. 
Selling via Ecommerce Plugins
This is a really effective and highly converting option for selling services online. While opting this method, you can easily sell services without facing the above disadvantages. You can take online payment for your services, display your services more effectively, show multiple pricing options, allow sellers and customers to converse with each other in real-time as well as improve your store conversions by displaying reviews and ratings of your customers. You can sell services by this method in two ways. These include:
1. Setting Up Store With WooCommerce and Woo Sell Services:
WooCommerce is the topmost WordPress e-commerce plugin powering more than 44% of all online stores. This plugin allows you to sell different types of products such as physical and virtual products.  It also allows you to manage orders effectively and receive payment by way of payment gateway integration. Being free the core plugin is limited to certain features only. However, you can extend the functionality of plugins by way of many amazing addons that fully support WooCommerce. In order to sell services online with all the above-mentioned features, you can go with Woo Sell services which is a dedicated WooCommerce add on.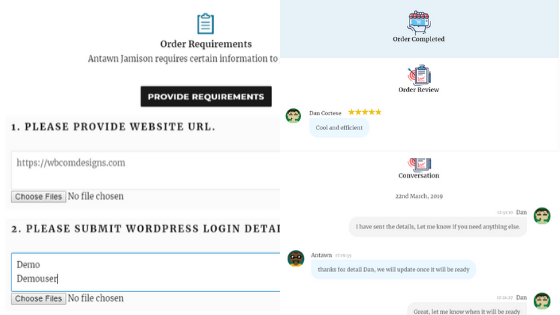 WooCommerce addon Woo Sell Services offers a variety of features to help you effectively sell services online. 
Once activated this plugin will create a new product type called Services where a vendor can add his service and requirements that he needs his customer to fulfill. Furthermore, this plugin offers a dedicated conversation section for vendors and customers so that they can communicate in real-time. Other features of this plugin include a separate manage service section for a vendor and customer to manage their services sold and bought. 
Woo Sell Services is fully integrated with WooCommerce plugin. With Woo Sell services a customer can also add a review for the service, he has received which will be further displayed nicely on the individual service page. You can also extend the functionality of your existing WooCommerce store and start selling services simply by installing this plugin. 
2. Setting Up A Store With Easy Digital Downloads And EDD Sell Services
Easy Digital Downloads is another popular WordPress plugin dedicated to selling virtual and digital products in WordPress. You can use this plugin to sell downloadable products such as ebooks, audio files, WordPress plugins etc. Just like WooCommerce, this plugin is also free to download and in order to extend its functionality, you can use various dedicated EDD add-ons.
In order to sell services online, you can opt for EDD Sell Services plugin that allows you to sell services just like a product is sold. With the help of this dedicated EDD addon, a vendor can add his questions that he wishes to ask his customers such as site login details, etc. Similarly, a customer can also clear his doubts with the help of a dedicated conversation section provided by the add on itself. EDD Sell services is a great plugin to add service selling functionality along with the power of the Easy Digital Downloads plugin. 
Moreover, it allows customers and vendors to share reviews and ratings for each other as well as offers a manage service page where both can manage all their services at one place. Vendors and customers will also receive email and notifications for each conversation triggers in real-time. 
If you want to further extend the functionality of your service store by including multi-vendor capabilities, you can do so with the help of EDD Front End Submissions add on for EDD. This add on offers useful features for creating a multi-vendor EDD marketplace such as separate vendor dashboard, commission tracking, email notification and more. This add on is fully compatible with EDD Sell services so there will not be any compatibility issues. Thus, with the help of all these three plugins, you can easily create a functional and engaging multi-vendor marketplace for selling services online. 
Ready To Selling Services Online With WordPress?
Apart from selling your services on different freelancing platforms, the other way to grow your business online is to sell services online on your website.  And if you already have a WooCommerce or EDD based WordPress website, all you need to do is install a dedicated add on in order to start selling services online. Both these add-ons allow you to sell services just like a product is sold fully integrate with your core plugin. So, there is nothing to worry about.
So, Start Selling What You Love To Do.