Marketing is one of the most crucial areas for any business, helping to refresh the customer base and keep new sales cycling through. Marketing is the process of generating awareness about your business, and one of the more effective tools for achieving this kind of direct contact is printing. High quality, professionally printed materials can create the right impression for your business from the very start, and can help convince potential prospects to work with you.
Printing for marketing purposes, at its most basic, covers things like business cards and letterheads and a wide variety of printing techniques. More than anything, these are functional printing needs that most businesses will require in order to operate on a day-to-day basis. Yet aside from being purely administrative, this kind of printing also helps project your company image to new and existing contacts. Quality printing breeds a subtle impression of a quality operation, and even in the smallest of details it pays to look as professional as possible – regardless of your industry.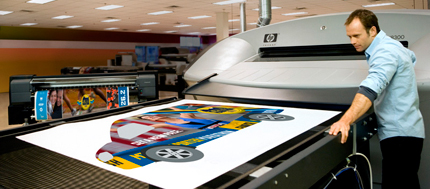 One stage further, and businesses can rely on printed materials like brochures or flyers to communicate their marketing messages. Mailshots and distribution of printed materials can help inform clients about products and services, and can contribute to a positive image for any business. This kind of volume printing strategy can work out well, averaged over a campaign, and many businesses use flyers and brochures to generate leads. This is naturally a more detailed expression of business identity, and more of an emphasis shifts from print quality and graphics to the copy and messaging of the materials.
A well-designed, well-written brochure or flyer can generate leads indefinitely, and tweaks to the layout and formatting can help improve conversions a lot. Simple strategies of this sort that rely on mailing in volume to generate leads can be reduced to numbers and statistics, which can ease the burden of measuring and guaranteeing ROI for those in charge of marketing budgets.
The latest trends in printing can shape how businesses approach creating marketing materials. Beyond mailouts like flyers and brochures, promotional merchandise printing is one growth area for the industry, and one that businesses are increasingly using to build brand awareness and loyalty amongst customers and corporate clients. Hats, mugs, pens, keychains – there are a number of products that are commonly printed with promotional slogans and imaging, and these can be a cost-effective way for businesses to get the message out.
These types of printed products can be used for corporate hospitality and events, and offer more exposure for the company brand and messaging. By printing on useful, high quality products, the hope is that promotional merchandise is used and shared with others to keep the business current and more prominent.
Printing materials is one of the most cost-effective ways overall of pushing your brand. From business cards through to printed T-shirts and mouse mats, professional grade printing can separate your business from the field and create a more appealing image of your organization in the eyes of new and prospective clients.