If you are looking for the latest tablet and its features than you have came to right place. In this Essay I am listing down the advantages and disadvantages of the tablet which can help you if you are thinking to buy the tablet.
Google Nexus 7
It is manufactured by Asus on Google recommendations; the Google Nexus 7 is a good quality android tablet.
It has features like
3 quad core processor with 12 core GPU which is exceptionally well.

Long battery life of 10 hours at normal usage

Internal storage of 16 GB

Great dynamic display of 7 inch and 1280 x 800 resolution screen

Latest Android 4.2 version "JELLY BEAN "

Front facing camera with 1.2 MP
By seeing its above features is likely bit higher in the price. For 16 GB internal storage you have to pay $ 199 and for full 32 GB version you have to pay $249. In addition to these you are getting 3G version too.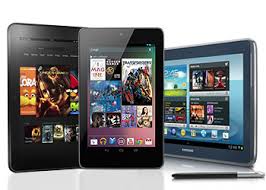 Google Nexus 10
It is the bigger brother of GOOGLE Nexus 7. The main attracting and benefit of this display is 300 pixels per inch with resolution of 2560 X 1600 and its display on your Retina.
It has features like
Dual core ARM Cortex with A15 processor

Quad core Mali t64 graphic processor

5 MP face rearing Camera

& 1.9 MP front facing camera

Long battery life of 11 hours with normal usage
Samsung Galaxy Note 10.1
What else you want tablet with a big screen?
By many of the editor it has choose fast + strong + and great feature of having multitasking system at one time
It has features like
Big screen with Resolution of 1280 x 800

1.4 GHz Exynos Quad core processor

Comes with stylus-"S pen"

Sensitivity and ability to sketch wide range of items

5 MP rear facing camera and1.9 MP front facing camera
A tablet with a big screen, a quad core processor and the might of the S Pen… known as a stylus to me and you.
At fewer prices its offer you more feature than any other average tablet. Its main function is that provides you booting with micro SD.
Amazon Kindle Fire HD
The lowest and starting price of this tab is $269 with an additional processor benefit of core quad.
Features
The main benefit provided by this tablet is it comes with HD 1080 pixel screen .It comes in two flavours One is of 16GB and another one of 32GB. It recently updated his tab with front facing camera and Skype supported. By survey it is found it is going to hit the market which adding with e-book to the tablet and lots of internal space to launch your installed apps and games without stopping.

The biggest disadvantage of this tablet is there is no micro-SD slot.