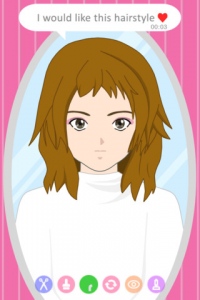 Salon quality apps that every stylist should check out
Hair Education
This unique new iphone app gives you an insight into the latest designs and techniques of Christiana Lanza. You'll find three very detailed, step-by-step photo tutorials for his Linear Azzur Advanced inspirations 2012 cut and colour styles. It's very easy to use, and really sits at the cutting edge of styling.
Verdict: Limited to just a few styles and techniques, but incredibly insightful.
Glamour's Take Me To The Hairdresser
Define women's hair styles by length, colour and style, and then find examples from a slideshow of celebrity images from red carpets around the world it's great for finding a little inspiration from celebrity trend setters, but little more than that. Nevertheless, it's certainly a good app to show clients to talk about new styling ideas.
Verdict: Limited in its use, but possibly good for finding inspiration if you need some.
Organic Hair Color Assistant
This very specialist app focuses on hair colouring, helping professionals find formulas and conversion tools they need to get the perfect colour for every occasion. You can also find lots of tutorial videos about colouring techniques for different hair types. It's a complicated field, but is made much simpler by this app.
Verdict: Simple and unfussy, and presents plenty of detail in an easily digestible way.
2 Minute UP-DO's
Get the inside scoop on the techniques of British Hairdresser of the Year. Andrew Collinge with this app. Find out how to dress long hair in a series of different styles. There are a bunch of video demonstrations to work through, and plenty of additional info about things like brushes and other tools.
Verdict: Some content costs extra, but it all goes to charity, so that's not so bad.
I-Tigi Catwalk
If you want to stay at the forefront of the cutting edge of hair design, then you need to be up to date with all the big fashion shows and catwalks, which is exactly what this app gives you access to, With images from The latest shows and rundowns of the hottest new trends, you'll also find a number of videos of the designers explaining their ideas and choices.
Verdict: Possesses a great interface, and is packed full of useful content. A must-have.
Guest Post by Kashif Raza. Haarklinikken Hair Restoration offers a range of products and treatments for hair loss including individually customized products and hair transplants.