VoIP, which stands for Voice over Internet Protocol, is a business phone system that can save you money and improve productivity and customer service. VoIP systems provide you with features and services that were previously only available to large enterprises.
However, small businesses and large enterprises have different resources and working practices. Although the features and services are similar, it's essential that you adapt VoIP to the way your business works. And, that's where the choice of business phone company comes in.
By working with a company that specializes in VoIP phones for small business, you can be confident that you will get relevant advice and a solution that meets your needs, your technical resources and your budget.
Advice and Guidance
Before selecting a system and a provider, take the opportunity to discuss your needs with a number of possible suppliers. Ask about their credentials and their experience working with small businesses. Look for references and testimonials from companies similar to yours.
By discussing your business goals and your current organization, service providers can recommend the services and features that will be relevant to your needs. Based on their advice, you can draw up a wish list for comparing different offers.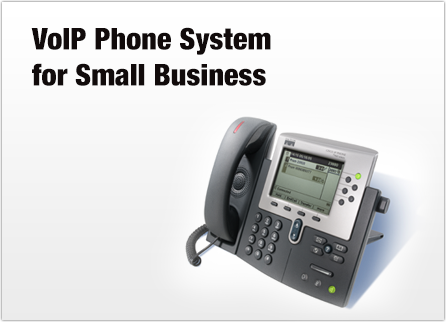 Providers should inspect your current phone system and infrastructure to check that it is suitable for VoIP. They may recommend an upgrade to your network if you are planning to operate the system on your premises. They should also check your Internet connection to see that it has the speed and Quality of Service to support VoIP. Your existing phones may be suitable for VoIP by fitting an adapter.
Choice of Service Delivery
Based on the assessment of your infrastructure, a service provider may recommend a hosted service, rather than a system based on your premises. With a hosted service, the provider owns, manages and maintains the infrastructure in a secure datacenter.
This means that you don't have to spend capital purchasing or upgrading equipment. Instead, you pay a monthly fee. As this fee covers maintenance, repairs and upgrades to the system, you also save money on operating costs.
You won't have to find someone with the technical skills to manage a phone system. However, you may need support from time to time, so make sure the phone company can provide telephone support.
Flexible Packages
Business phone companies offer their services in tiered packages – the more you pay, the more features and services you get. For a small business, starter or standard packages are usually the most suitable. Premium packages are generally aimed at large enterprise users.
The package may also include a bundle of free calls. These would only be a benefit if you make a lot of long distance or international calls.
When you are reviewing packages, check to see if the charge covers set up costs and telephone support.
Growing with Your Business
If, like most small businesses, you've got great growth plans, you need to work with a business phone company that offers a clear upgrade path. You may want to hire more people, open additional offices or add more features to your phone system.
Look carefully at the cost and process of upgrading your system. Working with a business phone company is a long-term investment that can help your business grow.