Having a beautiful home theatre system is the dream of most people in world, but not all of them are capable of having it. There are several requirements for having a home theatre entertainment system. Besides that, it is also somewhat costly and hence the person who wants to have a home theatre system must be a rich person. Watching a movie in a home theatre, eating popcorns, chips and any other delicacy that you want to include in your menu is truly a heavenly experience.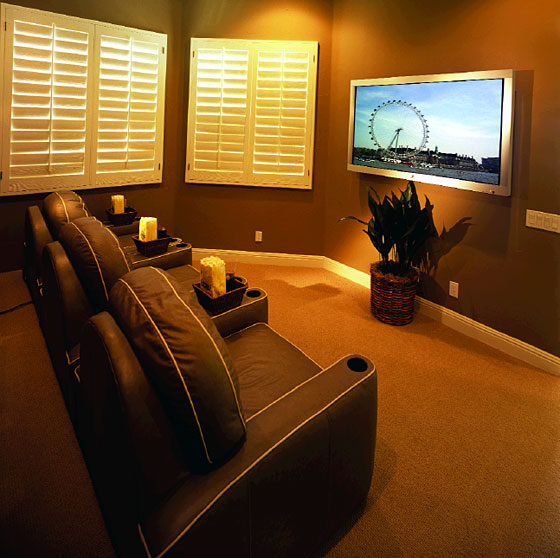 There are different home theatre packages. Important ones among them include all in one package and piece together packages. In all in one package, person needs to purchase all systems of sensory equipments at once.
On the other hand, person can purchase them one by one and combine them together and make consolidate them all into a home theatre package. Before installing any home theatre system, go to local internet centre and have a look at different packages available with them. After that, you can choose a package which suits you the best.
Different types of home based theatre packages are available. They have several advantages over other systems, which include a highly advanced screen, which is either LCD screen or a plasma screen. These screens are highly efficient and have very low power consumption and that makes them ideal for using at home theatres. Main advantage of home theatre is that you will have privacy.
There are no disturbances as in case of public theatres. No one will interfere in your matters and you will have a perfect enjoyment.
Theatres can be made soundproof by insulating them by using fiberglass materials. Wall sheathings can be removed and that makes the room a perfectly soundproof room. Rock wool, mineral wool etc are some important materials which are used for making room walls soundproof. This is very important as you neither want to get disturbed by sounds from outside nor would you like to disturb others by your home theater sounds.
The way in which you build rooms is also very important for maintaining quality of sounds produced. Laws of acoustics have to be maintained perfectly while building room. Echoing should be minimized as much as possible. Different kinds of waves are present, like standing sound waves etc. these standing waves, when hit the wall, get bounced back and are received by listener's ears. If echoing is not minimized, nothing can be heard and that wastes the entire arrangement.
Shape of rooms determines quality of sounds produced inside. Square shaped rooms are always the perfect choices as they provide maximum sound efficiency. It is better to furnish floors with carpets and rugs. Irregular surfaces are very important as they absorb sound waves and reduce echoing. So keep as many rugs and bed sheets etc as possible inside room.
The place where you keep your speaker also affects sound quality. Before that, understand the fact that the sound quality you have seen in some of your friend's home may not match perfectly in case of your home as locations of homes and environment of two homes is quite different, but it is possible to get high quality sound by keeping speaker in perfect place. For more information about home theater systems click here.