Life For the sake of providing convenience and versatile video experience, DVDFab DVD Ripper focus on delivering the perfect outcome in DVD ripping and conversion to rich DVD enthusiasts' video life. This practical and all-featured DVD ripper software can rip any DVD to any one of the mainstream formats including audio formats, 2D and 3D video formats, and convert to diverse devices like smart phones, tablets, TV Boxes, game platforms, etc. You can then, rip the content of your favorite DVDs to the video formats compatible with the player you need to played with, or watch on the trip way to get through the boring time. With DVDFab DVD Ripper, you can enjoy all sorts of possibilities on your DVD. Whatever you choose, the result DVDFab provides you won't be short of the best DVD ripping experience.
Speak to rip DVD, one thing should not be avoided considering is the DVD decryption. As long as you are a DVD fan, you must clear that almost all the legitimate DVD discs are embedded with DVD encryption in various forms, aims to protect the DVD content and be away from illegal use. If a DVD ripper isn't able to remove the DVD protections, it can't be regarded as a good DVD ripper. DVDFab DVD Ripper is a professional DVD decrypter firstly, which can bypass all kinds of DVD protections designed in either the classical DVD discs or the newest released ones. When the source is loaded in, the protections are removed. Plus, the region codes in the DVD disc results with the problem of disabled playing on the devices produced in other countries will be removed and changed to be the universal code to let you play the DVD on any devices produced anywhere you want.
Equipped with a rich profile library, DVDFab DVD Ripper can rip DVD to almost all the video formats such as MP4, MKV, WMV, FLV, M2TS, TS, etc. If you only have normal 2D DVDs and want to enjoy 3D videos, DVDFab DVD Ripper will make your dream come true. You can convert 2D DVD to 3D MP4, 3D MKV, 3D TS, etc. If you already have 3D DVD sources, you can rip the content and change the video formats to play on other 3D devices.
Recent years, 4K movies become more and more popular. It is the representative of ultimate high resolution movie, which presents audiences the deluxe video feast. And with DVDFab, you can also enjoy 4K DVD movies. You can choose to convert your DVD to MP4.4K or MKV.4K, any one of them is the most common and widely used 4K video format.
If you worry about that the ripped DVDs take big possession of your disc space. Well, H.265 video formats collected in DVDFab's profile bank will release your worry. It can convert the big source to the incredible several percentage of the source size while maintain the original quality, even provides you higher level result.
If you just need to extract the audio file of DVD to listen the dialog or practicing the oral English or something like that, you can. DVDFab DVD Ripper is also a professional audio extractor and also an audio converter. You can enjoy the sound of your DVD, or convert it to another audio format. Almost all the mainstream audio formats are collected in like MP3, WMA, W4A, WAV, AudioCopy, etc.
Another part of the profile bank is device. All kinds of devices with the video playback feature are collected in. You can rip and convert your DVDs to smart phones, tablets, TV Boxes, game platforms, 3D devices, etc. And you can find any devices you need from DVDFab since all the famous and widely used brands are included.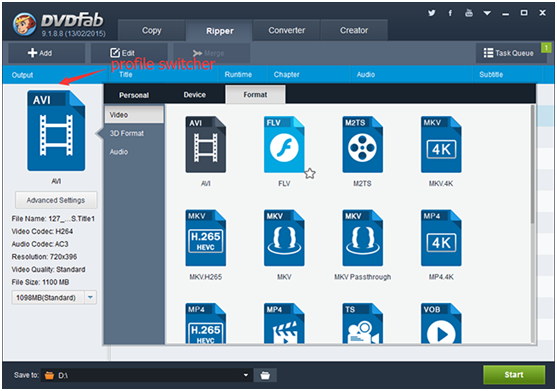 Apart from the output format, you can also define the output content, audio tracks and subtitles. As the source is loaded, all the embedded content are recognized and listed on the interface. You can choose to output anything you need by checking them on.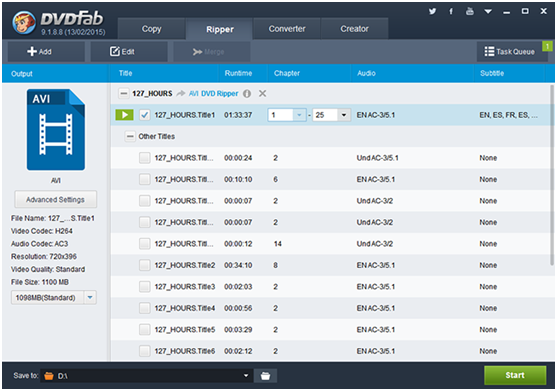 In addition, you can make the result more suitable for your need like choosing the aspect ratio, resolution, trimming the part you need, cropping your video with the display area you need and cutting off the black bars, adding a watermark including text watermark and image watermark, adding external subtitles and changing the video parameters like brightness, contrast and saturation.