One of the many conveniences that smartphones offer is playing games instead of getting bored. Slotomania is one such game which allows people to indulge their betting tendencies on slot machines that are accessible on their smartphones and tablets. This Android and iOS game from Playtika is immensely popular primarily because of the way it is designed.
About Slotomania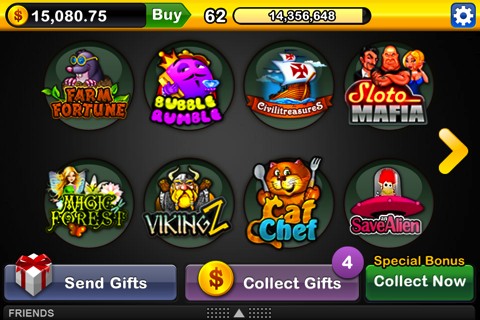 Like any other slot machine game, the player uses the virtual money to play on the slot machines in Slotomania. The games in Slotomania also have themes, and there are graphics to make people feel like they are integral part of the game. There is music too. But Slotomania scores because of simple but effective visuals. Excessive graphics reduces the speed at which the game can be played. They require a lot of memories too. Slotomania developers considered this aspect and ensured that graphics is reduced to a minimal level. In addition, they provided the slot games in this free game app to avoid unnecessary subroutines within the program. Effectively, this mobile slot game app is not only faster but saves on battery usage as well.
Most of the conventional slot games for mobile phones do not let the player feel as if there is some achievement. In Slotomania, players feel the need to return because they want to move to the next stage or next level. For starters, the player is allowed to use only one slot machine. The rest of the games remain locked and can be unlocked using money. This first game is the farm themed slot game.
Slotomania Gameplay
There are different types of games here, allowing players to select how many lines they want to match. Slot machines actually are a test of reflexes also. They test the ability of the person to read the numbers, interpret it, and match it at the right moment. Eyes, brain, and hand are involved in the process. Obviously more lines imply more numbers and need for better skills to co-ordinate the three. The thrill of matching more numbers is addictive. People can use this game for improving such skills and increase their chances of winning on slot machines that use real money.
Many games available for Android devices require the person to play it continuously for a long time. Unlike those games, Slotomania games can be played at any time, even for a few minutes. Conventional slot machines are not open 24/7, 365 days. Unlike them, people can play this game when they are unable to sleep or need to keep awake.
There are awesome bonuses with lot of spins which unlock some of the games.  These free games, however, may not appeal to many people. Conventionally, slot machines are designed for a single user. But Slotomania qualifies as a social game because people can borrow or lend funds earned here to their friends or relatives. Likewise, they can also send gifts to others enabling those people to play some of the games without using any of their money. This possibility of interlinking is another reason people rank this game above other slot games that do not facilitate such social interactions.
Bottom Line
Playtika periodically introduces new versions of Slotomania. This means the player can look for a new type of slot machine added to the existing set. Developers have taken care to ensure that the game of chance is exactly that, and the probability of winning on the slot machines in Slotomania is the same as that on any real life slot machine. Too easy a game tends to bore people. The fact that the slot machines in Slotomania do not let people win easily even if it is virtual money makes it all the more interesting. For having some fun during Easter, you can watch it here: