Chances of losing or having your phone stolen by someone are not so small as we would like. Such trouble comes when you least expect it. But what can you do in such situations? Is there a way to recover your data so you can use it on another phone? Fortunately, Windows Phone 8 includes a backup feature that can be used easily. In the following lines you will learn how this feature works, in order to be able to keep your phone safer.


Elements of Windows Phone 8 which you can backup

Windows Phone 8 offers its users the option to create backups for the following:

Photos and Videos

Text messages and call history

Phone settings (settings in Internet Explorer, location, lock screen, speech, etc.).

Accounts you have set up


Favorite sites in Internet Explorer.

However, there are some things you should know about how Windows Phone 8 saves this data:

Your applications will be saved but the information such as savegames will not.

The Start screen is not saved, so all the tiles that you set will be lost. You will need to customize your home screen again whenever you reset the phone, even if you created a backup.

Windows Phone 8 needs a Wi-Fi connection to upload your backup files into a cloud system. If there is no wireless connection, the data will be loaded once a week, using your 3G/4G connection.

All photos and videos are saved to your SkyDrive account, where they can be accessed anytime you want, from any computer or device.

How to backup your phone


Start by going to the list of applications on your Windows Phone 8. Then, scroll to Settings and click on the shortcut. Locate the entry called backup system settings list and click on it. In the backup screen, shown below, you will have three choices: app list + settings, text messages and photos + videos.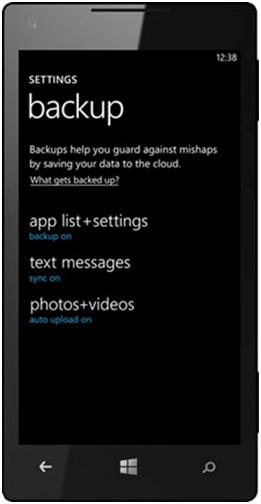 For each of these elements, you can see that the option to create backups can be enabled or not. Immediately after you click one of the three categories, Windows Phone 8 will display a short message that informs you when the last backup was performed. You can also perform a manual backup by pressing 'perform backup now'.
If you click on Advanced, you will see the advanced settings screen, where you have the option to delete backups to the list of applications and settings, and opt for automatic backup for the category you initially tapped on.
In the second category, backup settings are available for text messages and chat history. Use the appropriate switches to enable or disable the backup for these items. In the settings for backup, the third element of the list of options is photos + videos. In here you will be able to select what kind of connection the phone can use to upload the materials to the SkyDrive account associated with it.