Network locations were first introduced in Windows Vista, but have been found to be very confusing and difficult to use. Windows 7 and Windows 8, on the other hand, make this feature easier to use by coming with certain improvements on how it can be used. In this guide you will be explained what network locations are, along with the options you have available when you connect to a new network.

What is a network location?

A network location is a package of network and sharing settings that is applied to the network to which you are connected. Depending on the location of the active network, the connection is assigned to features such as file and printer sharing, network discovery, etc., which could be turned on or off.
These network locations are very useful for people who travel a lot and connect their computers to more than one network. For example, you could connect your laptop at work, at home and, at the end of the day, in a park or on a friend's network. Every time you connect to a new network, Windows 7 and Windows 8 will assign it to a network profile. With one choice, you get the whole package of network settings applied to the new connection. In this way you will not jeopardize the safety of your data.
Windows allows you to choose between three types of profiles / network locations, as shown in the picture below:

Home network – choose this location when connected to your home network or a network of people and devices that you fully trust. By default, network discovery is turned on and you can see other computers and devices in the network. Also, this will allow other computers on the network to access your computer. The home network will also have permission to create or join a homegroup.

Office network – this profile is good when you connect to the network at work. It has the same settings as those of the home network, with one exception: the profile will not allow you to create or join a homegroup.

Public network – this profile is perfect when you're in a public place such as an airport store, a club or a café. When this profile is used network discovery and sharing are turned off. Other computers on the same network will not be able to see your files.

All profiles are subject to changes to the default settings. However, it is generally not recommended to change the default settings, especially for public networks. Certainly, the default settings for this profile provide the best security. There is also a fourth network location profile called network domain. This profile cannot be set by an ordinary user. It is only available to institutions, companies, etc., and is set by the network administrator.

How to change network locations of a connection in Windows

Open Network and Sharing Center. Here you will see your active networks. For each of them you will see the name and the network location assigned, as shown below: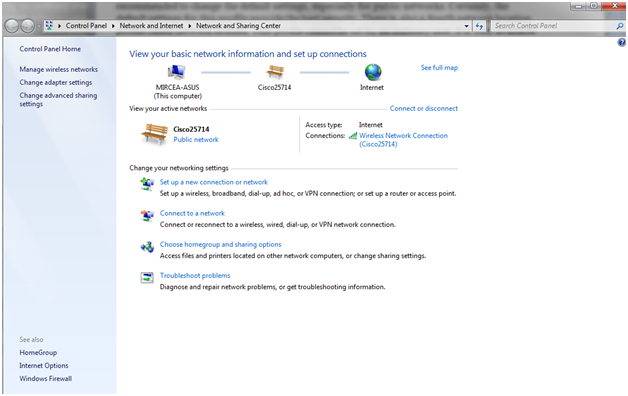 If you want to change the network location of a connection all you need to do is click on the type of location ('Public network' in the picture above), after which you will get to chose another network location for the current connection.