These days, so many people either leave the UK for a life abroad or come to Britain from other countries to live and work, that the need for cheap international phone calls is greater than ever. While e-mail is a great way to keep in touch, nothing beats hearing the sound of a loved one's voice.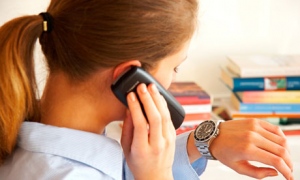 Technology is meeting the demand
Not so long ago, the only way to make an international phone call was to pick up your landline handset and dial the number. This put you at the mercy of your phone service provider, who very often made substantial charges for this service. The high cost of making a call to a country abroad was so off-putting that many people avoided doing so, or reserved phone calls for special occasions or emergencies.
The introduction of competition to the phone service market resulted in call costs varying slightly between providers and it became possible for the first time to make cheaper international calls. However, making a direct dial international call from your landline is still the most expensive way to make a call to a relative or friend in another country. The demand for cheap phone calls has heralded even greater competition in the market and advancements in communications technology now make it possible to make cheap international calls in a number of ways.
Internet Phone Calls
Making international phone calls using an internet connection can be very cost effective. There are many providers who offer this service. It works by using Voice over Internet Protocol technology and all that is needed is an internet connection, a computer and a compatible headset or handset. When you sign up with a service provider, you will install their software onto your computer and your internet connection is then used to route your calls. Many service providers will supply you with a device to plug into your computer so that you can use your own landline to make these internet calls.
The costs of these types of calls can vary greatly, depending upon whether you are calling the recipient's landline or mobile phone. Some internet to internet calls are much cheaper or even free with certain providers. The disadvantage to this service is that it is only really useful if you are calling a country that has a reliable internet service. Calls to some countries can result in an unsuccessful or patchy connection, with frequent breakdowns and poor call quality.
Access Number Dialled Calls
A more reliable way to make international calls cheaply is to choose an Access Number phone service provider, of which there are many on the market now. By texting or calling a provided number before dialling the international phone number, users can see their call costs slashed to as little as one penny per minute. Call costs are simply added to their phone bill or deducted from their mobile network inclusive minutes. This type of service dispels the myth that making cheap phone calls to other countries from a mobile phone is not possible.
AUTHOR BIO
Idania Silvia is a telecommunications consultant who writes on communication technology for a range of publications. She advises a number of high profile organisations on their communications and technology infrastructures. For the best cheap international phone calls, he recommends www.planetcalling.com.