Stylus pens are used for touch screen electronic devices which include tablet, computers and cell phones. Stylus is a writing instrument that works by touch or pressure. Regular pen and stylus pen work in a similar fashion but the main difference lies in the fact that stylus pen has plastic or cloth ball point so as to prevents the screen from damage. A stylus usually resembles a pen, hence the name stylus pen and it can be used to select options, write or draw on a touchscreen.
Why use a Stylus
Stylus is used for touchscreen or stylus enabled devices. At times using a stylus may seem absurd but the following advantages will surely change your perspective:
–          More comfortable mainly when you  need to touch the screen frequently
–          High precision
–          No fingerprints on screen hence no constant cleaning
–          At times its too cold to use your fingers
–          Helps people with orthopedic complications to use apps
–          Greater degree of control
–          Most apt alternative for digital artists
–          New design apps give enhanced performance with stylus
Operating touch screen gadgets with fingers at times has low precision due to the natural oil or sweat from hands. Stylus pens whether it is a simple low cost IPad stylus or the one with Galaxy note, the drawing and note making practice is much outstanding to your fingers. Stylus presents a comfortable way that delivers exact input while operating touch screen gadgets.
Guide to Right Stylus
Stylus are one of the best accessories of the present age and when it comes to drawing and note making, not using a stylus can cost you a lot of time and effort. This 5 step guide will surely help you in determining the right stylus for you and make your gadget usage more comfortable and fun.
Step 1
Determine the type of your touchscreen
Resistive
This type of display is made up of several stratums of plastic and cannot read more than one input at one display. Resistive display therefore need steady pressure for reception of user interaction.
Capacitive
This type is made up of glass layers covered with a clear conductive material. Capacitive screens can accept constant input and multiple touches. They respond to gentle touch and are comparatively faster than resistive screens. The most important feature required for a stylus used in this case is conductivity.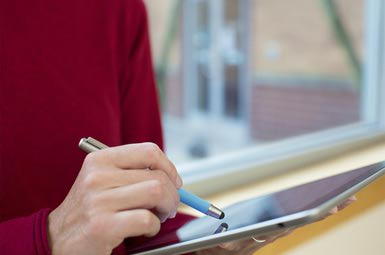 Step 2
Stylus according to the use you need to put it into
General use
Rounded end or flat tip stylus are designed to duplicate your finger act.
Write or type
Nib end or finer tip stylus are an apt choice for the users who want to write, sketch or type using the small on-screen keyboard.
Art work
Stylus designed to use with art application, called art-stylus copy brushes and make sketching very comfortable and refined. There are various types of art-stylus available in accordance with the art application used.
Multifunctional stylus
This category of stylus comes with additional functions like being used as laser pointers and multiple pen colors.
Step 3
 Comfort
Stylus pen are available in the market in a variety of shapes and size, hence you need to consider the following before you buy one:
–          Must be easy to hold
–          Should not slip from your hand
–          Choose the right grip
–          Go for the suitable tip
–          Rubber tip at times becomes very sloppy
Step 4
Storage
You undoubtedly have to consider how you will store your stylus.
–          Magnetic stylus will stick directly onto the device.
–          Clips make it convenient to keep a track of the stylus.
–          Some stylus come with a hoop to hang it
Step 5
Durability
Replacing stylus that wears out frequently becomes rather annoying.
–          Eventually cost more.
–          A worn out tip may harm the device
–          Touch screen may not respond to touch
It is therefore advised that you go for the stylus that best suits your desires. Having a high performance stylus for your gadget will definitely enhance your work experience and make it more enjoyable.