For better or worse, this is the age of mobile computing – and even low cost airlines know that. Even though these companies usually operate around a "no-frills" motto, some of them have not failed to realize the importance of connecting with their customers through the new channels.
And even though there's notably an absence of mobile-ready websites from most European low cost airline guides, not all is lost. There are a few low cost airlines that already availed free mobile phone apps, that make it so much easier and pleasurable to interact with them.
In case you're not familiar with it, this article will run you through the best official lost cost flight apps that you should probably download to your smartphone or tablet.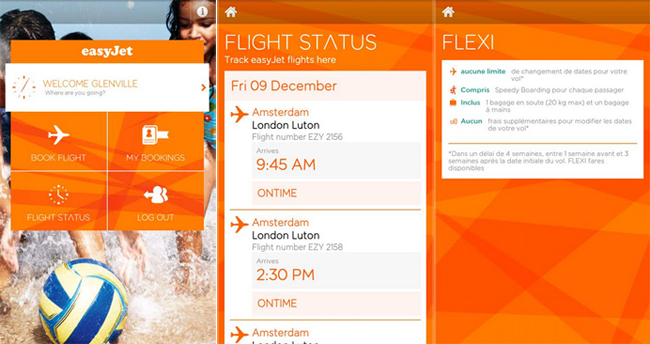 EasyJet Mobile App
This is simply one of the best mobile apps released officially by an European low cost airline. Not because it's so amazing by its own merits, but simply because there's a notable lack of competition.
In all case, the EasyJet app (available for Android and iPhone) actually does an adequate job of replacing the official website. The interface is streamlined as to look great on a smartphone, and it includes all the options you could hope for… although there wasn't apparently much effort to make add any features that would go above and beyond the ordinary.
As it is, yuou can easily book flights, check timetables and flight status and organize your bookings. The user interface is intuitive enough, and really makes for a pleasant user experience. It's certainly much better to book flights with this app than trying to log into the EasyJet website from a smartphone. The other low cost airlines should really take a cue from EasyJet, and jump into the app bandwagon as soon as possible.
Notably absent airline apps
While looking for the best mobile apps released officially by low cost airline guides, we here hard-pressed to find real alternatives. Surprisingly, big companies like Ryanair and FlyThomasCook don't seem to quite care about the increasingly popular mobile users, which in a matter of years should actually overcome conventional computers in terms of sheer traffic and reach.
It clearly looks as though most low cost airlines think of creating a mobile app as unnecessary luxury. Maybe they assume that people who travel low cost probably can't afford getting a smartphone? In our opinion, this is a gross oversight and does not convey a sound understanding of the target audience.
Do you know of any smaller low cost airlines that actually realized this, and already offer their own proprietary apps? If so, don't hesitate to share with us by writing your comments below.
This post was brought to you by the low cost airline guide, a great resource to help you find the best deals whenever you need to fly around Europe. Come see us, anytime!