MicroVision Inc unveiled the second generation laser pico projector, the SHOWWX+. With SHOWWX+ you can project from your mobile device 50% brighter at 16:9 widescreen resolution.  "We're on a mission to eliminate the squinting and huddling that occurs when mobile device users share content," said Alexander Tokman, CEO of MicroVision.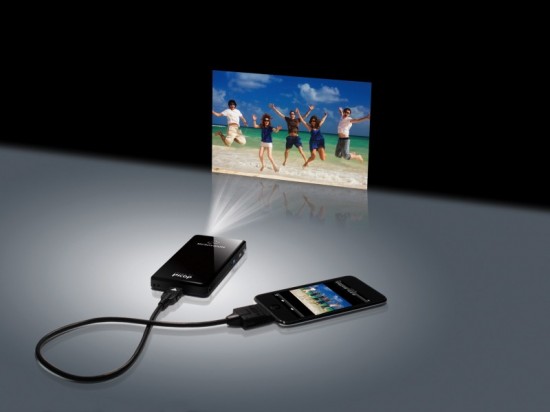 SHOWWX+ offers a big screen experience and is extremely thin. With two hours of battery life and 5 times contrast ratio than it competitors it is expected to lead the mini projector market. SHOWWX+ offer a 5000:! contrast ratio and a short throw ratio. It comes with a high quality video cable with which you can connect it to your iOS devices. You can watch you favorite Netflix movie anywhere by streaming it on your iPhone Netflix app and projecting it to any surface. It also works with other mobile phones, notebooks and almost any gadget with a video out or VGA.
Inside the SHOWWX+ is a new laser scanning technology which focus the images in a high contrast. It does not have any complex lenses or LEDs either. With the size almost equivalent to an iPhone, the battery lasts longer. The color break up is avoided by producing all colors simultaneously in hundred millionth of a second. SHOWWX+ is available for $449 and it comes with many optional accessories like car chargers, spare batteries, tripods etc.