Let's face the truth! It's not an easy task to run your Magento store without a great developer supporting you. There's always something to be changed or fixed.
I know, many online store owners struggle to find really good Magento developers. That's the reason I've decided to write this post and explain you how to find the best person to get your job done.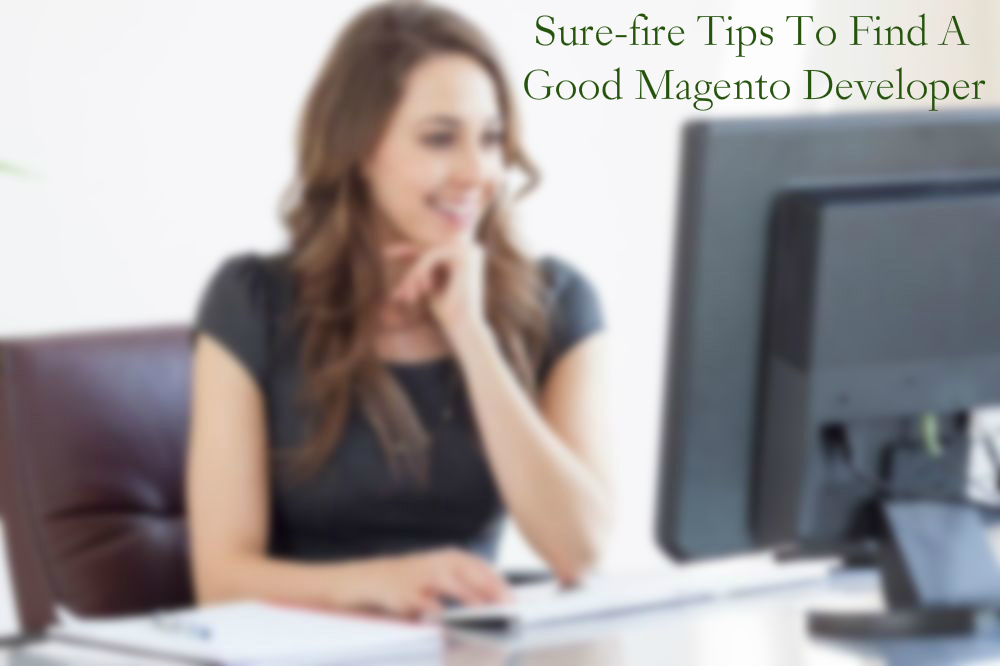 Firstly, you should know what kind of developer you need?
The first thing you need to consider before hunting for a developer is what are your needs actually. This will allow you to find the right person to meet your business needs. So, consider the following things:
One-time or On-going project
This is an important consideration – whether you need someone to fix one thing on your site or hire Magento programmer who can make the ongoing changes. Because, some developers might be looking for a long term commitment and might not work for small projects. On the other side, some developers might have time to work for small things but not available to work with you for long term.
In all the cases, it's better to test a developer with a small project before going for the complex ones. Additionally, tell them that it's a test project, if you're happy with the work, you'll sign a contract.
Freelancer or Agency
Remember, a single person might not have all the capabilities you need, freelancers can only do so much. This may lead you to go big and hire a web agency.
Generally, agencies charge for a higher price, but do a better job.
Another option is hiring multiple freelancers. But, managing all of them requires enough time and money to spend. If you want, it's good to have 1-2 freelancers if you can work with them and get your job done.
What matters? Price or Quality
Yes, it might be a cliché but you get what you pay for. You can't expect an excellent job from cheap development services.
There are situations when companies hired the cheapest talent and then realized, these developers can't deliver. This may end you up paying larger prices to hire someone else to fix their crappy code.
Make a list of skills or competences he/she should possess
It is really important for you to know exactly what kind of knowledge or experience your developer has. Which programming languages does he need to know? What kind of frameworks he has worked with? Has he worked on a framework which you are expecting to work with?
Best places to find Magento Professionals
Once you've figured out what kind of developer you need for your store, it's time to start finding him.
I think, these are some of the best places to find good Magento developers:
Personal Network
The best way is asking your friends and colleagues if they know a good Magento developer. They may recommend someone they've been knowing or happy to work with.
Also make sure you consider the developers, your friends have been working with. You'll not want someone simply because your friends have heard he's good.
Moreover, if you hire a person who has been tested, you'll minimize the risk.
Magento Solution Providers
Magento has a great community that can help you with all kinds of implementations. As the Magento solution partners have access to trainings, support and services from Magento, you can rest assured that these companies will do a great work with your project.
Magento Certification Directory
You can find various developers in the Magento certification directory. This way, you can easily know is your Magento professional certified? The difference with Solution partners is that here, you actually find people, not companies. This gives you a better chance to find an independent developer.
Freelance Websites
There are many freelancing websites such as eLance, o Desk, and Freelancer which have a database of thousands of Magento developers of which hundreds are certified.
You just need to post a job there you can get 20-100 people interested in your project. You can also do a search yourself and invite the developers that you like to apply for your job.
Before that, check out the reviews and feedback to be sure you're hiring the right person.
Social Networking Channels
Facebook groups – There are various facebook groups dedicated to the topic on Magento. Just browse those groups to find a good Magento professional.
LinkedIn – This is the place where you'll find really good and reliable developers. On LikedIn, you can directly search the people who have listed "Magento" as skill and peep into their profiles.
Twitter – There are already many developers on Twitter tweeting about Magento. So, simply tweet that you're searching for a Magento developer by using hashtags such as #Magento and #MagentoJobs. And, you will be surprised how many will reply and ask for more details about the job.
That's it for now! Do you have any other tips or suggestions to keep in mind while finding a good Magento developer? Please share your thoughts.