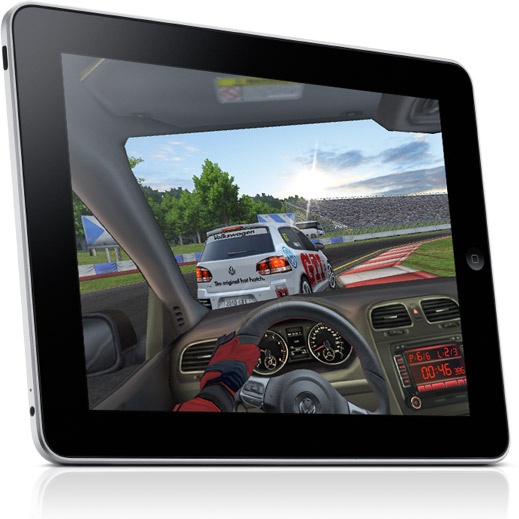 Among gamers, the release of the Apple iPad was perhaps met with confused expectations. Here was a portable device which many people consider, just an oversized and turbocharged version of the iPod Touch. And the iPhone OS over the years has been inundated by a plethora of games at varying levels of quality, they all cater to a compact touchscreen device. Could the additional horsepower of the iPad's A4 1GHz processor and larger screen size give rise to a new breed of video games. While we could never be sure, game developers seemed highly enthusiastic about the gadget and within merely a month of its release we've seen a number of very impressive games for iPad surfacing. Here is the top ten list of the most exciting games you can play on the iPad.

Real Racing HD
It was released originally on the iPhone OS by Firemint Studios, a stunning racing game that managed to raise the bar significantly and surprised us with its depth. The game is a worthy upgrade with improved tilt steering and significantly upgraded visuals. The game delivers a quick play mode and also an exciting career mode. Sadly, its online component doesn't involve a head to head races with human players but at least you can you upload your lap times, for other players to beat. Despite those issues, at $10, there are many things you can do in this game and Real Racing HD is highly entertaining.

Sam and Max Devil's Playhouse Episode 1: The Penal Zone
It is simply a polished comedic journey that brings back plenty of fond memories from the earlier Sam and Max games. It is the first installment on the iPad environment and translated very well on the iPad platform. Its graphics are smooth and its controls are well designed. However, there are some slowdowns at various points of the game. Hopefully, upcoming updates will fix the issues. As it stands however, the game proves how beautifully adventure titles can work on the iPad.

Plants Vs Zombies HD
An addictive tower defense game by PopCap that is both pleasant and innovative. The first PC version has been adored by casual gamers everywhere due to its variety, color, and sheer charm. The recent iPad version looks nearly as good as the original game and also allows you utilize the multi-touch functions of the gadget to its fullest extent with eleven simultaneous touch points. The iPad version also incorporates interesting minigames. Retailing at half the price, it is a good place to get going for those who never tried this gem before

Diner Dash: Grilling Green
Grilling Green's loose narration sees Flo converting her diner into a pleasant eco-friendly joint. She is serving up healthy organic meals, replacing equipments with carbon-neutral appliances and of course, composting. Priced at only $4.99, it is a modest deal considering it offers 20 exciting stages. It's colorful and bright, with sharp artworks that look good on your flashy new iPad. Dedicated Diner Dash fans will be delighted to go green with Flo, but it may not be enough to lasso some players that think this iteration only offers a little more of the same.

Mirror's Edge
Its iPad version was quite frankly a bit of a surprise. Fortunately, it turned out to be an enjoyable surprise. Although, it is only a 2D side-scroller, the game somehow maintains the delight of the original. Both the combat and environmental controls are handled comfortably with just quick swipe gestures. It looks great and still retains the original graphic style with smooth and appealing animations. The game also provides a Multiplayer mode for racing against a friend through the levels. It's simply a graceful game and you can easily feel more at home on the iPad.

Zen Bound 2
It could be considered as among the iPad's most relaxing titles. Its general objective is to tie an object with rope. When you are done, paint splashes onto it and depending on how tightly you wrapped it, only a portion area gets covered. Obviously, your objective is to maximize the painted area. The game takes this basic gameplay and wraps it in a very attractive interface with straightforward touch controls. The original Zen Bound was an incredible iPhone game and the sequel is quite possibly the most exquisite thing you will see on the iPad for some time.

Civilization Revolution
Previously, it made an appearance on the iPhone platform. It was a simplified variant of the original PC series which worked smoothly despite the platform's limitations. The iPad edition sports vibrant graphics fittingly stepped up from its iPhone brethren. The game mechanics work well and the characters are also well detailed. Battle animations are however somewhat amateurish compared to the iPhone version. It is an excellent mobile strategy game and one you should check out after buying an iPad.

Tony Hawk's Pro Skater 2
After its first appearance in 2000, the game becomes a landmark both for the sport gaming genre in general. It was Activision's first big hit before they became better-known for its Call of Duty series. The company aimed to bring the same level of experience to the tablet world, ten years later. While the original contents are carried over well enough, the controls leave a lot to be desired. However, its smooth animations and full 3D graphics more than make up for its flaws.

Need for Speed Shift
It is among the best multi-platform racing series. So how well does the iPhone version scale up to the larger screen? Holding your iPad and tilting it like a steering wheel will make you feel like playing in an arcade machine. Certainly, there are a fistful of exciting additions in it, including eight new cars and larger screen real estate makes a world of difference. However, it isn't cheap. EA sells it at $14.99, but when considering the thrills and tingles it offers, you may be tempted to make the plunge. Shift introduces a graceful combination of arcade-style racing and a dash of Sim spices. The courses look fantastic and are expertly designed, especially the night-time downtown Tokyo. But it isn't just a great set of attributes that makes NFS:Shift such an attractive play. It offers a sense of unrivalled excitement by just tilting your hands; often, your entire upper body may also instinctively swing as you are tackling those dangerous curves.

Flight Control
A highly popular game from the iPhone platform, players were given a single task of landing various airplanes and choppers safely on the ground without colliding with each other. They need to determine the best path that an aircraft should take by simply tracing a path with finger. Bigger screen means a more complex gameplay with larger number of airplanes, at higher levels you may start to feel the panic as you desperately maneuver your finger to avoid deadly air collisions. The new high definition maps make a hugely addictive and worthy experience.
Unfortunately, many new iPad games ported from other platforms seem to be rushed, which results in disappointing gaming experience. Titles like N.O.V.A. HD, Metal Gear Solid Touch and Resident Evil 4 for iPad fail to impress with their mediocre gameplay.
I am Susan Hannan from Exams Key; it gives 100% NS0-154 test exams. Let's take benefit of C_TBW45_70 test Exams material efficiently and get guaranteed success. Check out free demo of all certifications Exam.