In new buildings, double glazing has almost become the norm. It has several advantages. These may vary on the type of double glazing installed. If you have conventional windows, it is quite possible to replace them with double glazing. You have to go through a glazier. Before making your final choice, here are the main qualities of such a solution.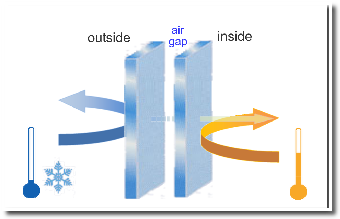 Thermal insulation
One of the first utilities of double glazing is to improve the thermal insulation of your windows. Not only will the cold from the outside not infiltrate through your windows, but the heat of your home will not escape. In the end, you will realize savings on your energy consumption.
As a general rule, double glazing for thermal insulation consists of two panes with a thickness of 4 mm each and separated by a cushion of air or krypton gas. This space can be 12 or 16 mm and it is this that will provide better insulation. Moreover, this form of double glazing prevents fogging on the panes.
Sound insulation
Another advantage of double glazing is sound insulation. If you live in the city and especially in the center, noises coming from the street can be particularly troublesome. A double soundproofing allows to considerably limit these noise nuisances. The result is really impressive. Simply open the window and close it to immediately realize the performance of a double glazing.
Compared to the solution offering only thermal insulation, double glazing with sound insulation is characterized by a 4-mm inner glass, followed by a 10-mm krypton air or gas cushion and an outer glass of 10 Mm also. This model maintains good thermal insulation characteristics while considerably reducing noise from outside.
Stronger windows
Finally, the last advantage of the double glazing is that it provides more solidity to the windows. These are much more difficult to break. This feature increases security against possible break-ins in your home. Similarly, if you have children who play soccer in the garden, the ball will not risk breaking a window. Other characteristics can be added depending on the type of double glazing selected: anti-glare, heated window, or reinforced insulation.
To install double glazing in your home, we recommend that you hire an experienced glazier in Granby and surrounding areas. Indeed, putting windows is not something for which you can improvise. Otherwise, the installation may be poorly done, and you will not benefit optimally from the advantages of double glazing.