Social media usage is predominant these days and the craze is being fueled with every passing day. There have been several app introductions for making the social media browsing an enjoyable experience. The year 2012 showed a great craze towards the social media usage and people have got really addicted to using social media sites. It has been an important part of life to do social networking. So let's see what's in there for the New Year 2013 to make social media browsing more wonderful. Stated below are some predictions for the social media sites which you must check out.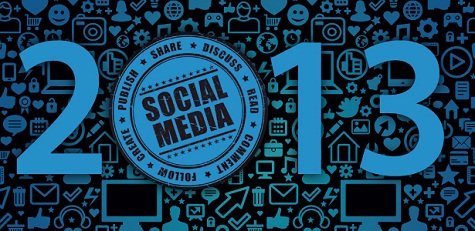 1.    Facebook will Carry on  with its Services Being Monetized:
The year 2012 has been a great year for Facebook in terms of business though there were a few ups and downs. In 2012 Facebook reached the milestone of hitting 1 million users worldwide which is definitely worth of appraising. The million dollar company of Mark Zuckerberg, Facebook, is gaining popularity with the every passing day and has fought with several hurdles quite boldly. It clearly shows that this site is not going to ruin like several other social media sites which could not establish itself in the market. As always, this year also Facebook will be carrying on with its monetization of services for organizations and individuals who are in need of it. As like always, this year also Facebook is going to continue with its effective and proven powerful tools for improving business. So it's definitely going to be lucrative again.
2.    Content Marketing Demand is definitely going to Boost Up: 
Content marketing has been a prime factor for the success of several online businesses. With every passing day, the demand for good content marketing strategy is being fueled up and organizations have understood the undeniable importance of content marketing. Online content marketing has been a proven strategy behind the success of numerous business and people have finally started to take it as a prime factor in making their business ensconced. So this year, it can be expected that the content marketing strategies will be on a major focus.
3.    Google+ is going to throw a Challenge to other Social Media Sites:
It is true that like other similar social media sites such as Facebook, Twitter, Instagram etc., Google + has not yet been dominant, but it will be wrong of you to consider this search engine giant's social media site as dead. This year, in 2013, Google+ is going to rock it up! Google is constantly making developments and adding new features to Google+ which definitely means that they are in a mood to thrash all other sites maintain the first place. Mainly, Google is trying to interlink every web activity to Google+ which means whether you wish or not, you have to get linked in Google+. This is surely going to be a major factor for their upcoming conquest. So fells, be ready to accept the new challenge of the online giant.
4.    More and more Companies Focusing to Enter the Online World of Business:
The immense necessity and power of the internet is inevitable and this is certainly the main reason why big and small companies are constantly linking themselves with this powerful online world. In 2013, several online companies are going to get themselves linked with the online world to pump up their business more.
Author Bio:
Austin Richard Is an I.T professional from passcertification. He is CSSGB certified. He is now getting prepared for 9L0-412 exam. He enjoys writing about Business, and Technology.