Nokia Lumia 800 is among the best smartphones in its league. These are smartphones running on a Microsoft windows 7.5 operating system. Its price is competitive.
OPERATING SYSTEM
Microsoft windows phone operating system is giving a lot of competition to other systems like Ios and Android, although it has a long way to go. With a Nokia Lumia 800 you just need to swish a finger so as to link contact together in very easy way.  Nevertheless there are some issues related to this phone. A good example of one of the issues is that it is very tiresome; when it comes to conversion of any video you are interested in watching.
But it is the simplicity of Microsoft operating system that many people fall in love with. By just flicking your finger right and left, will see you jump the downloaded list application and live tiles which are informative. Its speed is superb and it is something most people will like. Nokia has also chipped in with a number of its tricks. It has put in Nokia drive, a Nat nav service, which is the first ever free drive to be bundled on a windows phone. Even if it is basic, it gets a person from A to B.
Nokia music is another good thing with this phone. With radio stations that are dedicated, which offer the latest tracks, and genres packaged in a way that you will definitely enjoy. This will make this Nokia phone a good company when it comes to listening to music of your choice. It means there is no time that you will get bored with this phone as your companion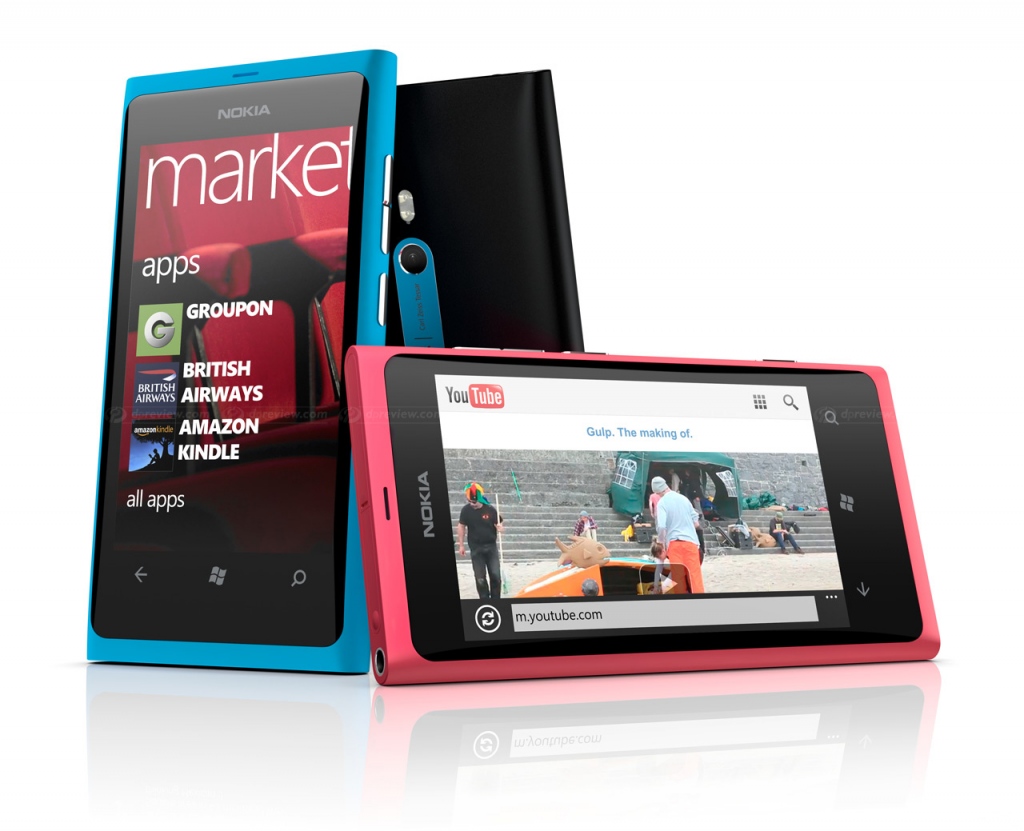 DESIGN
It uses the design of Nokia N9, a phone that was ill fated. The lumia 800 chassis is made of curved polycarbonates, which is wholly colored .This makes it light to carry and hard to get damaged. The way the chassis is curved also makes it appear very beautiful. It is a trendy phone that one is proud to be seen with. When it comes to trendy shapes, it can beat many phones in the market right now.
SCREEN
Its screen which is Clear Black OLED is top notch. It has a display that is edge to edge under a gorilla glass adding to this clear view. Even when you take it into daylight that is blinding, the clarity is still there. You don't have to keep guessing on where to prod as everything can be seen clearly.
Despite the fact that it has a 800*480 pixels words, when it comes to browsing the internet, it is not as impressive as you would expect. When it is zoomed out, there is a look of some bit of roughness around the edges.
The phone has a very cool camera. Despite iphone4s and Xperia Arc S having a higher speed than Nokia 800, it has a clear and vivid snap quality. Its other good quality of its camera is that when it comes to posting to face book, it dose that in a very quick way. When it comes to tagging friends, it also does that with a very fast speed. Compared to rivals who have a camera button that is prescribed, windows phone handsets are more advantageous and Nokia Lumia chrome key is perfect. With this phone, it becomes easier, enjoyable and fun to take pictures.
CONCLUSION
According to chief executive officer of Nokia Stephen Elop, when it comes to windows phones, Nokia lumia 800, is the first real one. It is hard to disagree with this verdict. This is despite the fact that its battery life isn't that good, and a screen which is slightly smaller. This is a partnership that Nokia and windows must definitely be proud of.