Have you ever had to call your tax professional to make an appointment to bring in your tax documents?
For many years I did what my husband had told me to do with our taxes – take them to the accountant's office. I'd gather up all of the tax forms and documents that we had and drive a half-hour to her office. Always punctual, I'd check in with the receptionist and be told to take a seat in the waiting room to be called. After waiting for at least twenty minutes, I'd be called into the inner office. Once inside the inner office, there would be brief conversation, a promise to "get right on it" and a quick dismissal. And then the drive home to wait. And wait. And wait some more. Weeks would go by. Finally, just a day or two before the deadline to file, the telephone would ring.
"Your tax return is ready. You owe me three hundred dollars."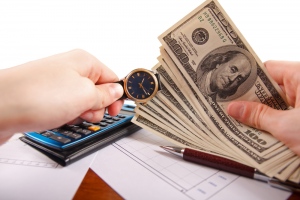 Easy to do
Just follow the directions that appear on the monitor. The process really could not be much simpler – if you know how to use the computer and follow the directions on the screen, why pay someone three hundred dollars to do simple data input? So one year, when I was pulling all of the tax documents together, getting ready to take them to the accountant, I decided that I was going to try to do it myself. There are lots of very reputable tax-preparation software programs on the market, and none of them cost more than one hundred dollars. Definitely worth looking into doing that!

Save time
There are many places that consumers can purchase tax preparation software. Big box discount stores, office supply stores, online retailers all sell a variety of software programs. There are even a variety of programs online that you can just access through the Internet and do the entire thing online for free! Doing your own taxes with a software program you have a choice to either print-off the paper work and mail it all in, or you can e file the return right from your own computer at home.

Privacy
One of the things that made me uncomfortable about having a local person doing my taxes, was the fact that I live in a small town. Everyone knows everything about everybody else's business. Doing my own taxes online meant that nobody else in town was privy to my personal finances. And that is the way I like it.
Faster refunds
When I filed my tax returns on paper, through the mail, the refunds took at least eight weeks to arrive. Fortunately I was not in desperate need to have the refund money for something vitally important. But once I started to e file my tax returns, the refunds arrived much quicker – sometimes as quickly as two weeks! And that, my friends, is a wonderful thing!