Windows 7 gives all users a convenient solution to detect and resolve many security issues and system maintenance problems that may arise. This new Windows feature is called Action Center and is built on the foundations laid by the Windows Security Center, which was first introduced in Windows XP Service Pack 2 and then improved in Windows Vista. In this article you will be explained all the features offered by the Action Center and you will learn how to configure it so that you only receive the notifications that you want to receive.
What is Windows Action Center?

Action Center is a Windows application that continuously monitors the security status of your system and if a problem is detected (e.g., your antivirus is disabled) you will soon get a notification, so that you can adjust it immediately. This tool also monitors a number of items related to the maintenance of the system.
When a problem is detected, the user is notified of its occurrence and is also given some information with respect to the steps that are necessary to resolve it.
Messages displayed by Action Center
You may have noticed an icon that represents a small flag in the notification area of ​​the status bar. That is the Action Center icon. If there are messages to display to the user, that flag will contain a small red X or a black watch icon. If you see an X then there is at least one important message that you should pay attention to. If you see the black clock icon then a scheduled action takes place in the background (e.g. Windows Defender scans your system).
For a complete list of messages, as well as the steps that are necessary to correct the problems, click on 'Go to Action Center', just below the white flag. You will then be presented with a window similar to the following: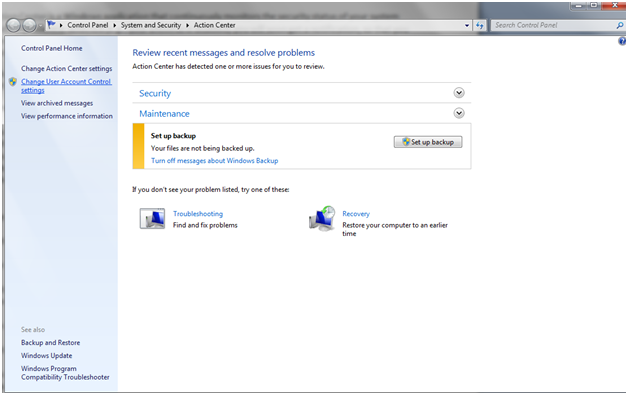 The main Action Center window displays the current issues related to security and maintenance, each in its appropriate group. It will also present you with detailed information about each problem, along with some repair options. In the picture above, there is one potential issue reported, which says that a backup for the system files has not been created.
All messages will follow a color code. A red message is considered very important and generally should not be ignored, while yellow means the message is just a recommendation that you can ignore if you do not want to follow.
Action Center will notify you when the following problems occur:
Windows Update (Important) – warns you if Windows Update is set to never check for updates, thus leaving the computer unprotected. The recommendation offered is to download and install updates automatically. To see all the available options click the "Change Settings" button and select another method for setting the updates;
The presence of malicious software (Important) – warns that Windows Defender and / or other antispyware solutions are disabled. To see the list of available options, click on "Show options to protect your computer";
Virus Protection (Important) – when no antivirus is installed or is installed but disabled, a notification confirming this will be displayed;
User Account Control (Important) – notifies you if User Account Control is disabled.
Network Firewall (Important) – announces that Windows Firewall and / or other firewall installed (e.g., ESET, ZoneAlarm, Symantec etc.) is stopped. It is highly recommended that you always have an active firewall.