Reports claim that Apple is ready to release a new line of MacBook Pro notebooks very soon. Recently Best Buy had released five stock keeping units (SKU) tagged to be "Coming soon". The notebooks are assumed to be priced as $1,199, $1,499, $1,799, $2,199 and $2,499. Together, further strengthening the speculation, most of Apple's European dealers have not had supply of MacBook Pro notebooks for over two weeks and were not able to place orders as well.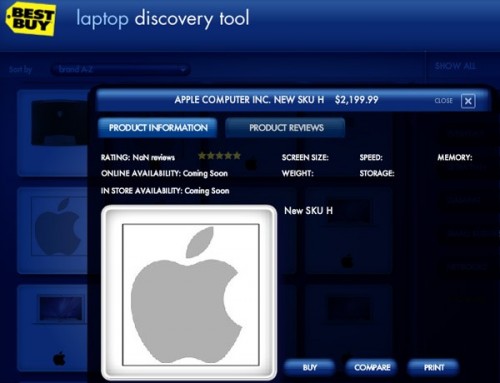 Apple has issued strict orders to retailers not to open sealed containers that may reach the store before any details are published. There are also chances that Apple will be introducing Intel's Light Peak technology in the new notebooks. With the ability to run multiple protocols and having a bandwidth starting at 10G bps,the technology helps to connect multiple devices over a single cable.
Most of the retailers have ran out of MacBook Pro stock and is waiting for any further developments to be out soon.As of now, no more details on release or specs are available. However, the reports suggest that the release may be this week mostly.