While many companies are opting to go the kiosk way to increase their sales volume and revenue, there is a big challenge in choosing the best kiosk manufacturer for their business. Due to lack of enough knowledge, companies have regretted on the choice of manufacturers that they make. A reputable kiosk manufacturer will offer tailor-made kiosks that best meet the needs of the company's customers. It is very important, as a company, to work with a kiosk manufacturer that will ensure quality and reliability by providing the best-in-class components.
A top-of-range manufacturer provides a value added kiosk designs. Not only do they concentrate on the hardware and software components, but they have the know-how on tailor-making turnkey solutions. This is inclusive of back-end integration with the service providers. The components should be personalized to specific transaction applications. Great manufacturers such as Olea kiosk manufacturers, have a development team that work together on business analysis, return on investment calculations, field services, implementation, financing and leasing.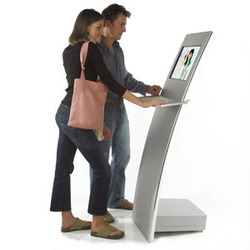 The manufacturers also put software approval certifications in place which may include the data encryption requirements, smart card requirements, pin legislation etc. The basic considerations that a legit manufacturer should put in place are:
Hardware Considerations:
The hardware that will be put in place depends on the intended use of the kiosk. It can be as simple as just an enclosure with a touch screen monitor and a standard pc, or it can be complex kiosks which will include, card reader, printers, telephone handsets, pointing devices and any other specialized peripherals.
Good hardware components are often characterized by speed, high volume, high quality yet low costs, full quality control of process and supply chains, support for all the drives should be readily available in case of needed replacements A hardware design should also be attractive as customers will want appealing, updated design that will attract users. Suppliers with experience in manufacturing thousands of units provide value added kiosks at the lowest costs and also consider a fast return on investment.
Great Opportunities:
While designing your kiosk, a reputable manufacturer will develop them based on the customers' needs and adapting hardware and software designs. These will further attract customers because of their friendly user interface and sophisticated server based kiosks administration capabilities. Ticketing and gift cards applications are great opportunities to become a choice of many consumers and it may attract and satisfy growing international market interest.