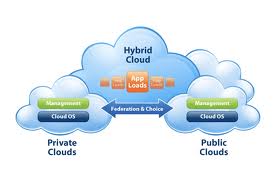 Recent years have been accompanied by changes in cloud computing. The new world includes the hybrid cloud, which is a type of environment that utilizes both public and private cloud services. The fact is that businesses are now realizing that they need a variety of cloud services in order to meet all of the needs of their customers.
Speed and economics are the greatest issues that are driving the market change to hybrid marketing. When it comes to the cloud, there are two primary models: private and public. Most modern businesses and organizations will utilize the combination hybrid cloud that provides private computing and public services.
The Private Cloud
This is a set of storage, services, interfaces, applications, networking and hardware that is operated and owned by a certain business and organization that is used by its customers, partners and employees. A private cloud is able to be managed and created by a third party for the use of only one business.
A private cloud is an environment that is highly controlled that is not open for consumption by the public. This means that a private cloud is situated behind a firewall. This highly automated cloud is primarily focused on compliance, security and governance.
The Public Cloud
This is the set of interfaces, services, storage, applications, networking and hardware that is operated and owned by a third party service that is available for use by other individuals or companies. The commercial providers are able to create a scalable data center that will hide the specific deals of the infrastructure from all consumers.
This is a viable option due to the fact that they are able to manage workloads in a straightforward and repetitive manner. The public cloud is able to be customized to the demands of the specific organization, providing the ability to support different workloads in an efficient manner.
The Hybrid Cloud
This is the combination of a private cloud that implements the use of public cloud services. The goal with a hybrid cloud is to combine the data and services with a verity of different cloud models in order to create a well-managed, automated, unified computing environment.
When public services and private clouds are combined, a new definition of corporate computing is created. The fact is that the hybrid clouds that are offered by ServerSpace create an environment that add value to a business.
A hybrid cloud is present if:
The business process is designed for a service so that it will connect with various environments to present them as one environment;

A company is leveraging a number of SaaS applications and then moves them between data center resources;

A company that uses public platforms and then sends data to a private cloud.
The fact is that a hybrid cloud provides options and features that were not available before. There are many companies embracing this technology, and providing superior capabilities to their workers and consumers.