With so many people using spas and pools to relax nowadays, the need for swimming pool technicians has never been higher. Although most people are unaware of this job, it's a nice and enjoyable position, especially for those who like spending their days in the open and don't mind taking a dip in the water from time to time. Such people often work in the hospitality industry and are employed because of their skills in cleaning the pools by using a variety of cleaning supplies, detergents and chemicals. If you, too, wish to become a swimming pool technician, here's what you need to do.
Understand the Job
In order to do your job properly, you need to understand all the aspects of it, including the duties and responsibilities every swimming pool technician has. Among other things, these include maintaining the correct water level in every pool and spa you're responsible for, checking and repairing pool equipment – from replacing your filters to checking your pumps and heaters – as well as cleaning and maintaining diving boards and other pool equipment. Additionally, you'll probably be required to maintain records of all cleaning supplies and keep an eye on safety when a number of people is using the pool at the same time.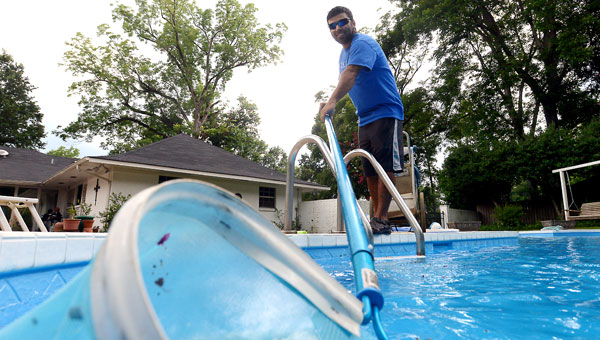 Work Environment
Unlike most of other jobs, being a swimming pool technician means you'll be outside most of the time, so it's important that you have no sun or water allergies. People on this position usually work from 30 to 40 hours a week, but don't be surprised if your employer asks you to stay at work a bit longer during the summer. This is the busiest season for swimming pools and spas, so you might have to work an extra shift or two. In the end, you'd better be a really good swimmer because you'll have to get into the pool more often than you think!
Special Skills
Of course, if you have any skills that are at least a bit unordinary or special, don't be afraid to use them to your advantage and mention them during your interview. Whether you're a licensed lifeguard or a swimming coach, this can really separate you from the other job candidates. Also, if you're handy and can fix pools without anyone's help, even better – if your future employer learns you've had experience in pool painting, for instance, and know how to use a special pool paint that makes every pool visually more appealing and extra safe, the job is yours! Don't be too modest and afraid to tell the world what you can do because that's not the way to get this job.
Upgrading your Skills
Although you're already able to do lots of things when it comes to cleaning, maintaining, and fixing various pools and spas, you can always get better, upgrade your knowledge, and take your skills to the next level. Your employer is usually in charge of this process, and most of them provide on-the-job training and teach you specific things you should know in order to keep the pools in a perfect condition. Nevertheless, if you notice this is the right job for you and realize it's something you could be doing your entire life, you can always become a certified pool technician and keep enjoying the benefits of your professional upgrade in the years to come.
A good swimming pool technician is usually hard to come by, so if you're serious about exploring a career in this industry, you can always contact hotels, resorts, fitness chains and local authorities who are hiring technicians, and you'll definitely get a job sooner than you think.