SunSmart, the new iPhone app will now alert you on how long you can bask under the sun without risking your body to potential cancer causing ultraviolet rays. This will be a boon for Australians as deaths due to skin cancer surpasses those killed in road accidents in Australia. Shockingly two in three Australians are diagnosed with skin cancer by the time they reach 70 years of age.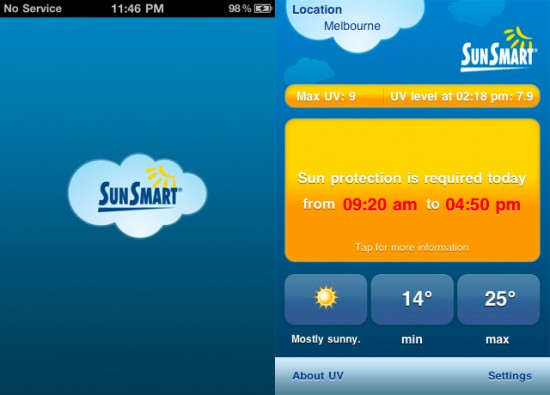 "What we're finding is that a lot of people are using temperatures and weather to predict when they need sun protection, but it's really the ultraviolet (UV) that's a problem — and you can't see that or feel it," said Sue Heward, the SunSmart Manager at Cancer Council.
To deal with this silent killer, the Council has developed and will distribute a free app that displays the weather forecast daily along with the highest UV levels. It has an alert function along with the global positioning systems (GPS) it will fetch the UV level information for the user's location and provide minute by minute update. The SunSmart App will be handy for those who have to work outdoor and the best part is "it is free".