Nowadays people are getting more inclined towards gadgets that are controlled via gestures, swipes or taps. Many of us have now grown accustomed to using touch gestures even on our laptops. Windows 8, the latest version of Microsoft's ubiquitous operating system, is putting more emphasis on the use of different gestures as part of operating system commands.
In this article we will look at the Logitech Wireless Touchpad T650 and how good it is in terms of functionality. The good thing about T650 is that it makes it a simple task to integrate a touch pad with any Windows 8 desktop computer or tablet PC. It has a glass topped surface which allows multi touch gestures & can be added seamlessly to any devices supporting Windows 8 operating system.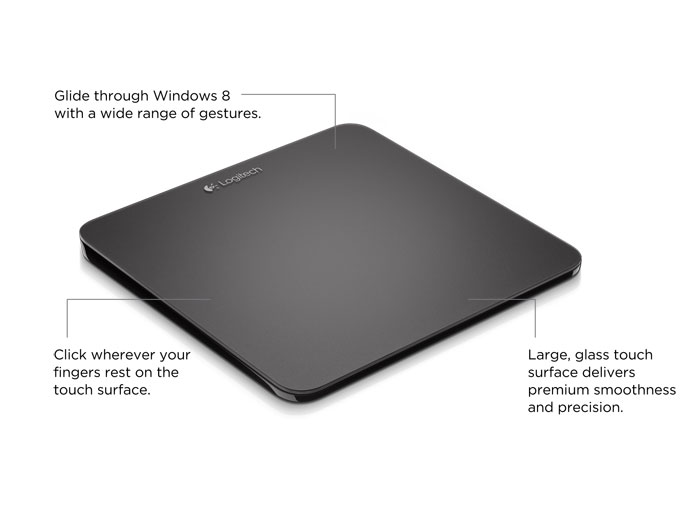 Logitech Touchpad Design
The design includes matte black and glass topped square with dimensions of 5.25 X 5.1 inch, and it looks very similar to the Magic Trackpad used with Mac computers. The difference between the two touchpads is the top edge which serves as battery compartment in Magic Trackpad, while it is nearly flat in the T650, where the rechargeable battery is built into the touch pad.
Technical Details
The touchpad makes use of an USB receiver instead of Bluetooth to connect to a computer; the USB receiver provides a better, more responsive connection in comparison to Bluetooth connections. You will also find a switch that can be used to turn off the touchpad when not in use. However, we can add here that the touch pad operates normally for about a week on a single charge, even when kept on for the whole day. The Logitech wireless pad comes with SetPoint software which allows additional customizations to be performed.
Hardware accessories
Micro-USB Charging cable
USB receiver
Performance Analysis
Let us now how the T650 performs when used with desktop computers, tablets or laptops. The responsiveness is quite good for navigations involving single input as well as multi finger gestures. All the gestures supported officially by Windows 8 operating system work perfectly on Logitech T650 such as slide in from top for accessing the applications menu and slide in from left for opening charms bar. In addition to these, T650 has its own gestures, like the up down swapping using 4 fingers for minimizing or maximizing windows which are open.
You can even use it with a MacBook but it will be recognized only as an external mouse instead of a trackpad; which means that even though the right & left buttons will work, there will be no gesture functionality.
A Final Note
Many will wonder if using a touchpad with laptop is moot; after all, touchpads are built into laptops by default. It will be useful if you intend to dock your computer with any external monitor and keyboard. The touch pad will be useful in case the docking of the laptop is such that the built in touch pad cannot be used. Thus we see that the Logitech touch pad is quite useful and makes gesture operations simpler on Windows 8.
This hardware review was brought to you by Dom's Tech Blog, your source for all kinds of computer tips and tricks.