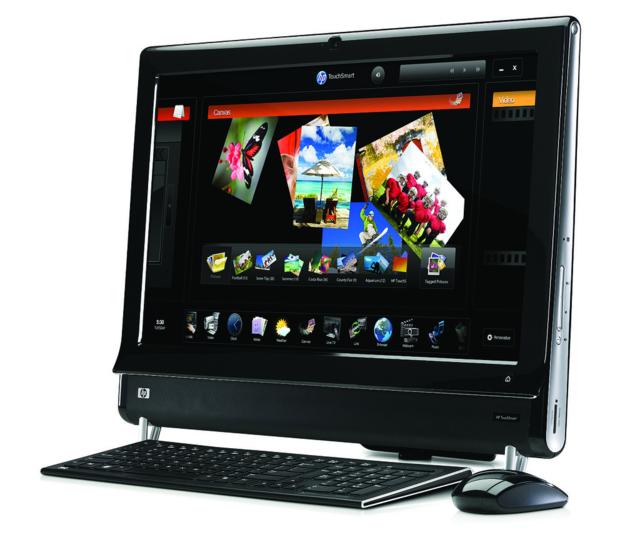 The HP TouchSmart 600 is a good example of the benefits of taking an early chance on technology that hasn't yet been proven. Now that Windows 7 has inspired most vendors of major desktops toward multitouch, years of feedback in the real market gives HP a major advantage in refining its TouchSmart 600. While the result isn't perfect, so far it's the best all-in-one implementation of touch input. Even without touch capability, the TouchSmart 600 matches Sony devices in standalone home entertainment by incorporating all the great features of Sony's Vaio LV line. Maybe not everyone will go for this 23.5-inch all-in-one at $1,599, but those who do will enjoy a feature-rich, innovative all-in-one.
Externally, there doesn't seem to be much difference from the TouchSmart IQ816, HP's previous all-in-one. The exterior of glossy black plastic is the same. It may not match up to the iMac's trendy design, but it's at least as attractive as, say, Sony or Gateway's new all-in-ones.
What the earlier design of HP's previous version lacked was an easy method of wall-mounting. Last year Sony pushed hard for the LV-series to be identified as living-room ready devices, with the design elements and hardware to match. Taking the lead from Sony, HP's TouchSmart is totally VESA-mount compliant. To uncover the wall-mounts, you just unscrew a back panel before unscrewing the stand.
Hp also took note of Sony's clever features for connectivity, and even expanded them a bit. They added an HDMI input that can switch input signals via a dedicated button, as well as a set of composite audio and video ports. Multiple sources of external video can be connected to the TouchSmart, such as HD cameras, a cable box, or game consoles, and you can easily switch between those and the Windows desktop. Unfortunately you can't have Windows communicating with those devices, because of regulatory implications, and so your options for DVR are limited to the hybrid TV tuner that comes built-in. You'll see the same restrictions with Sony's all-in-one.
The TouchSmart 600 also features a Blu-ray drive that's slot-loading, and touch-driven interfaces for Netflix and Hulu. Of course, all of these would be worthless if not backed up by decent audio and screen quality, and the TouchSmart 600 generally comes through. Audio output is loud enough to fill a room, and is easily the best offered by an all-in-one this year. The HD video seems to have some slight pixel noise in the 1920 x 1080, 23.5-inch display, but not so much as to be distracting, especially when viewing from a distance.
In the browser window that's incorporated into Recipe Box, you can visit and bookmark any site on the Internet. When you come across a recipe you like, the Recipe Box program will scrape it for you, isolating instructions and ingredients in a touch-friendly form. You can even have Recipe Box use its text-to-speech feature to read the recipe back to you step by step. This works on most sites, with a couple of notable exceptions. About, Martha Stewart, Food Network, and Epicurious websites presented no problems, but Cook's Country and Food and Wine Magazine's websites seem to give some difficulties. You can always enter and edit recipes manually, but the easy way of grabbing and organizing recipes would appeal to any cook or chef.
There are a few problem areas – the voice recognition software can be a bit erratic, the touch interface is sometimes unresponsive, and the main software carousel is sometimes slow in loading. There is definitely room for improvement, but the TouchSmart 600 is making great strides.