A multifunction printer, also referred to as all-in-one printer is a special type of machine incorporating the functionality of multiple devices or machines in one to provide a common or centralised document management or production system in a large office or home setting. Apart from printing, a multifunction printer is also designed to perform the following vital functions making them ideal for both professional and home use: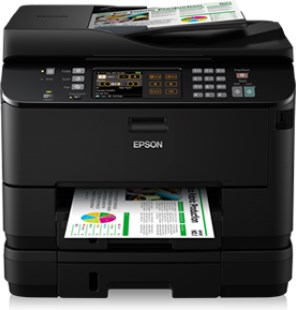 1. Scanning
Multifunction printers are designed with very special scanning features. The scanner is capable of scanning an image, an object, or a printed text before converting it to a digital image for printing, editing, or storage. Modern multifunction printers, such as Epson WorkForce Pro WP 4525, have very unique scanning features for better production of images. They have an automatic document feeder (ADF) which feeds sheets into the machine automatically without the need of manual assistance. The duplex scanning capability allows two-sided images or text documents to be scanned with ease. For more information on the Epson Workforce Pro rage, click here.
2. Photocopying
A multifunction printer's built-in photocopier has very advanced features that allow it to make numerous copies of text documents and visual images fast. The modern machines are designed with modern digital technology, replacing the conventional analogue technology. Digital technology has numerous advantages as compared to analogue technology. For instance, the photocopier is capable of producing high-quality copies with incredible speed. And with the automatic digital collation, the copier has the ability to copy a document only once and then use the processed or stored information to produce more copies. This allows you to produce a large number of copies within a very short period of time. Other impressive copier features include duplex output, stapling capability, hole-punching capability, folding capability, and some special document editing modes such as image scaling, page numbering, booklet pagination, watermarking, image rotation, and text/image stamping.
3. Faxing
With its unique built-in facsimile features, a multifunction printing machine is very capable of transmitting text documents or images to a telephone line connected to a printer or any other output device. First, the machine scans or photocopies the text or image, processes it as a single graphic image before converting it into a bitmap file. The bitmap file is then transmitted via a telephone system to a recipient.
Today's multifunction printers have very advanced features as they are designed with modern digital technology. For instance, the conventional fixed handset cord has been replaced with a cordless telephone with a radio receiver/transmitter. The special telephone answering machine (TAM) is capable of answering and recording telephone calls and messages. The machine also comes with a large memory for storing a large number of fax pages. Other important facsimile features include fax broadcasting, colour fax capability, F-code support, and Internet fax functions for fast and efficient document transmission and archiving.
4. Emailing
Multifunction printers come with standard e-mail features, allowing you to send scanned, photocopied, or printed documents to your friends, family members or business associates via e-mail. You can connect your multifunction printer to your computer or computers through a wireless or wired Internet network for easy sharing and distribution of images and text documents.